Affiliate marketing is one of the most popular methods for bloggers and content creators to monetise their blogs and websites. Travel blogs are no exception to this. Many travel bloggers earn significantly through affiliate programs. 
In this article, we will examine more than 21 top affiliate programs for travel blogs, discussing their benefits, requirements, commission rates, cookie duration and other useful information.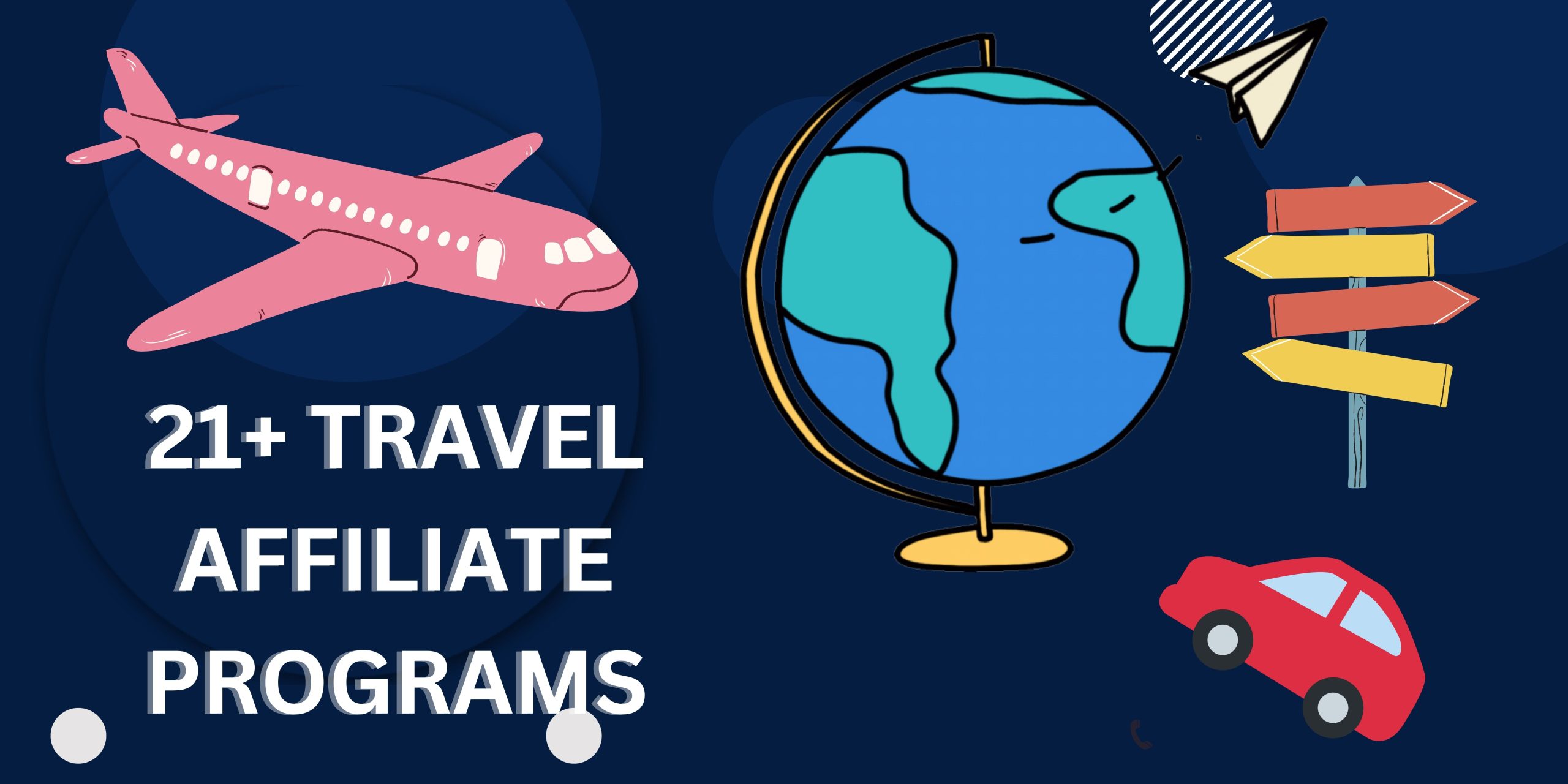 21+ Top Affiliate Programs for Travel Blogs
1. Booking.com
Booking.com is one of the most significant online travel bureaus in the world. It offers a wide range of accommodation options to travellers. More than 1.5 million room nights are usually booked each day. 
Companies that partner with Booking.com usually gain greater visibility online. This is because Booking.com ardently markets its partner's hotel and works to boost its search results on sites like Google, Yahoo, and Bing. Therefore, they also have greater visibility, leading to increased bookings. 
Signing up on Booking.com is free. 
Visit here. Fill in your name and email address. Then, complete other instructions. 
Booking.com Commission rate: About 15% on an average
Booking.com Affiliate Program Cookie duration: Unknown
2. Expedia
Expedia is another great affiliate program for travel blogs. It offers flights, car rentals, vacation packages, and hotels. It is also free to join—Expedia partners with leading brands like Hotels.com, Stayz, Abritel, FeWo-direkt, and Vrbo.
It also has access to large inventories like over 3 million properties, over 500 airlines, dozens of cruise lines, over 1000 car rentals and over 220,000 unique activities. Anyone interested in joining the Expedia affiliate program can sign up here.
Expedia Commission rate: 2% to 6%
Expedia Affiliate Program Cookie Duration: 7 days
3. TripAdvisor
TripAdvisor is an online travel platform that makes information and reviews about hotels, restaurants, flights and vacation rentals available to travellers.
They also assist with price comparison for hotels, rental cars, and flights, travel planning tools and travel booking.
One good thing about TripAdvisor is that affiliates earn whenever anyone in their community (who clicks their link) reaches out to any of TripAdvisor's hotel booking partners even though they do not book the hotel. To sign up on TripAdvisor visit here.
TripAdvisor Commission rate: 8% to 50%
TripAdvisor Affiliate Program Cookie Duration: 14 days
4. Agoda
Agoda is an online travel booking platform for travellers' accommodations. Agoda appeals to a global audience because its web app and promos come in 38 languages. Agoda also offers affiliates the opportunity to track their performance and earnings for free.
The affiliate program is suitable even for those new to affiliate marketing. This is because there is a team that is always ready to provide help and answer questions that relate to the program. Visit here to signup as a partner with Agoda on the affiliate program.
Agoda Commission rate: Up to 60% 
Agoda Affiliate Program Cookie duration: 30 days
5. Hotels.com
Hotels.com, listed under Expedia is also an online hotel booking platform that makes various types and levels of accommodations available.
Over 325,000 hotels are listed in relatively 19,000 locations across 85 websites in 34 languages on Hotels.com. Users are entitled to a reward night for every ten nights they stay in a hotel that was booked from hotels.com. This makes it a good affiliate program to sign up for.
Hotels.com Commission rate: The commission rate is 4%
Hotels.com Affiliate Program Cookie Duration: 30 days
6. Tiqets
Tiqets is an online platform where tickets can be purchased for museums, parks, and other popular attractions.
With Tiqets, travellers have access to over 3,000 venues which include famous art galleries, iconic landmarks and theme parks.
Tiqets is best for travellers who want to purchase things to do from Bangkok to Dubai and Paris to New York. 
Tiqets has a good web interface and hence, users can have a good experience in booking tickets.
Tiqets Commission Rate: 8% per sale.
Tiqets Cookie Duration: 30-day cookie duration 
7. Viator
Travel bloggers can also sign up for Viator. It is a popular website that offers over 300,000 travel experiences across 2,500 destinations.
Travellers get the opportunity to sightsee and embark on different adventures. They can cancel their booking for free and make payments through various means.
Cancelling booking at least 24 hours in advance of any booking will earn the user a full refund. Anyone can join the Viator affiliate program. 
If you are interested in joining the Viator affiliate program, visit here.
Viator Commission Rate: 8% per sale.
Viator Affiliate Program Cookie Duration: 30-day period. 
8. Skyscanner
Skyscanner boasts of putting travellers first. It has 30+ languages available in 52 countries, 1300+ suppliers and 90m+ peak monthly active users. If you intend to join the Skyscanner affiliate program, sign up here.
However, note that you need to fulfil the following requirements to join the program:
A completed website with links that are working

A website that has HTTPS Status

A website that has an up to date travel content

A website with a good user experience

A website which does not book tickets on behalf of its customers

Influencer criteria – The website which is to be used must have more than 1000 followers and up-to-date content related to travel

Blogs content must be up-to-date and related to travel

Coupon/ Discount/ Network/ Sub-network/ Marketing Performance agencies and Technology partners are not allowed to be affiliates.
Skyscanner Commission rate: 20% – 50%
Skyscanner Affiliate Program Cookie duration:  30 days
9. CheapOair
The CheapOair affiliate program offers affiliates the opportunity to get incentives on highly-priced bookings of hotels, car rentals, flights/insurance, and vacations.
Affiliates also gain access to newsletters with timely promotions that can help them increase sales. The affiliate program can be easily implemented which means bloggers or website owners can begin to earn commissions as early as they could. 
As a note of caution, affiliates are not to show themselves as the Official CheapOair website in any circumstance – whether offline or online or in any advertising or marketing campaign. 
CheapOair Commission rate: Affiliate earns between $5-$25 per sale. 
CheapOair Affiliate Program Cookie duration: 90 days  
10. Priceline
Priceline is an online travel agency that lets users book flights, car rentals, and hotels. It is available worldwide. Partners of Priceline get competitive rates and exclusive discounts on packages.
They also get promotional savings and incentives like free breakfast from patronising them.
Priceline gives partners flexible cancellation options if they are no longer interested in promoting their products. Lastly, Priceline gives travellers access to over 70,000 properties.
Visit here to join the Priceline affiliate program.
Priceline Commission rate: 3-5%
Priceline Affiliate Program Cookie duration: 30 days 
11. Travelocity
Travelocity is an online platform useful for booking flights, vacation packages, flights and performing other travel services. Travelocity is more focused on providing accommodations.
Joining the Travelocity affiliate program offers affiliates the opportunity to earn from driving traffic to Travelocity's website.
The program is not only open to affiliates in the United State. It is open to any blog or website with a great amount of traffic from any country. 
Travelocity Commission rate: Between 2% – 6%
Travelocity Affiliate Program Cookie duration: within 7 days
12. G Adventures 
G Adventures is a small group travel company that offers numerous tours.
It provides affiliates with in-depth reporting and management tools that make earning money easier and faster via G Adventures.
G Adventures offers bloggers various display advertisements, additional copies, an XML feed and frequent promos that can help them generate more sales. Bloggers and Website owners who are interested in joining G Adventures can do so here.
G Adventures Commission rate: 6% for confirmed sales
G Adventures Affiliate Program Cookie duration: 90 days cookie duration 
13. Eurail
Eurail is a train travel company that offers a range of passes for exploring Europe. The company which is managed by over 35 European railway and shipping companies makes Eurail passes available to European countries and Inrail passes for non-Europe countries.
The passes give its users access to 250,000km of European railway.
Eurail affiliate program is currently limited to some regions in the world, however, this list of affiliate networks can be explored to promote the Eurail affiliate program. 
Eurail Commission rate: 3%
Eurail Affiliate Program Cookie duration: 30 days
14. Omio
Omio is a search engine which helps travellers to compare the costs of trains, buses, and flights across Europe.
Travellers who are new to a particular locality will find Omio to be very useful. It will help them to know the best route to take to reach their destination and the prices.
Affiliate partners of Omio are given access to widgets and banners that can help them secure sales through their audience cheaply.
The widgets and banners help to place efficient and cheap travel expenses before their audience.
Omio Commission Rate: 6% per qualified sale. 
Omio Cookie Duration: 30-day period 
15. Rental cars
Rental cars is a global car rental platform that offers a wide range of rental options – luxury, economy and family rental cars.
This is very useful for road travellers and also travellers who just arrived at an airport in a foreign land (United States) and require a car to convey them to their destination.
Bookings with Rental cars can be cancelled or changed up to 48 hours before pick up. 
Rental Cars is a good option for travel bloggers because it is not restricted to any country. Its services are available in over 40 languages and over 180 countries. 
Rental cars Commission rate: 6% per qualified sale.
Rental cars Affiliate Program Cookie duration: 30 days
16. Cruise Direct 
Cruise Direct is an online cruise booking platform that offers a range of cruises.
Some of the features of the affiliate program which make it unique and a good option are:
The affiliate program is a parasite-free program.

There are PPC Marketing opportunities

Efficient affiliate management team

New banner ads, text ads and search boxes for marketing and

The weekly newsletters contain bonus commissions for affiliates in them.
Anyone interested in joining the affiliate program can join here.
Cruise Direct Commission rate: 3%
Cruise Direct Affiliate Program Cookie duration: 45 days 
17. Cruise Critic
Cruise critic is a popular website used for researching and booking cruises. With Cruise Critic, bloggers earn per click. Therefore, bloggers need to have a large audience to get enough revenue from promoting cruise-critic products.
Cruise Critic Commission rate: $0.18 – $0.45 
Cruise Critic Affiliate Program Cookie duration: 7 days
18. Travala
Travala is a travel website that accepts cryptocurrencies for payments. Since cryptocurrency is popularly known, promoting Travala is not a bad idea. However, it should be noted that affiliates will receive their commissions in cryptocurrencies. 
The affiliate program is open to everyone. It is not restricted to any country or locality. Anyone willing to join the Travala affiliate program should visit here. 
Travala Commission rate: 5.5%
Travala Cookie Duration: 90 days
19. GetYourGuide
GetYourGuide is a popular website for booking tours and activities around the world. For every successful booking, affiliates get a commission.
Getting the GetYourGuide affiliate program can be done at no cost. It is free. Anyone who wants to sign up for this affiliate program can do so here.
GetYourGuide Commission rate: 8%
GetYourGuide Affiliate Program Cookie duration: 31 days
20. Rail Europe
Rail Europe is a train travel company that offers a range of passes for exploring Europe. It is a well-known company that sells around 2.5 million European train tickets every year. It also offers a lot of local train tickets, regional train tickets and international high-speed train tickets. It is available for anyone who is staying in Europe. 
It offers travel bloggers within Europe the opportunity to promote Rail Europe on their blogs and earn commissions. 
Rail Europe Commission rate: 1.3% and 1.8% for rail tickets and rail passes respectively. 
Rail Europe Affiliate Program Cookie duration: 30 days
21. TourRadar
TourRadar is a website that offers a wide range of tours and activities around the world. Users have access to over 50,000+ adventures. They also have access to 24/7 customer service and various insurance options.
Travel bloggers and other affiliate marketers can earn a whopping $180 per sale. 
TourRadar Commission rate: 12% (Up to $180)
TourRadar Affiliate Program Cookie duration: 90 days 
22. Klook
Klook offers over 100,000 travel experiences to its users worldwide. Affiliates and users also get incentives and exclusive rewards on every purchase constantly.
Klook operates in about 9 languages and up to 10 billing currencies.
One juicy part about being an affiliate of Klook is that additional bonuses are given when more purchase targets are met. Klook also offers affiliates tools like widgets, search boxes, and banners to make getting sales easy.
Klook Commission Rate: 2-5%
Klook Cookie duration: 30 days
Final Thoughts
You can earn from promoting Travel Affiliate Programs while providing valuable resources to your blog readers.
These affiliate programs are very key to increasing affiliate revenue for Travel bloggers.
Which affiliate program you decide to choose depends on your personal preference and monetary expectation.
But put your audience first and choose travel affiliate programs that will be useful to them. 
It is advisable to choose travel affiliate programs with great reputations and commission rates.
RELATED ARTICLES: