In this article, you will learn about the best cryptocurrency affiliate programs to monetise your personal finance blog.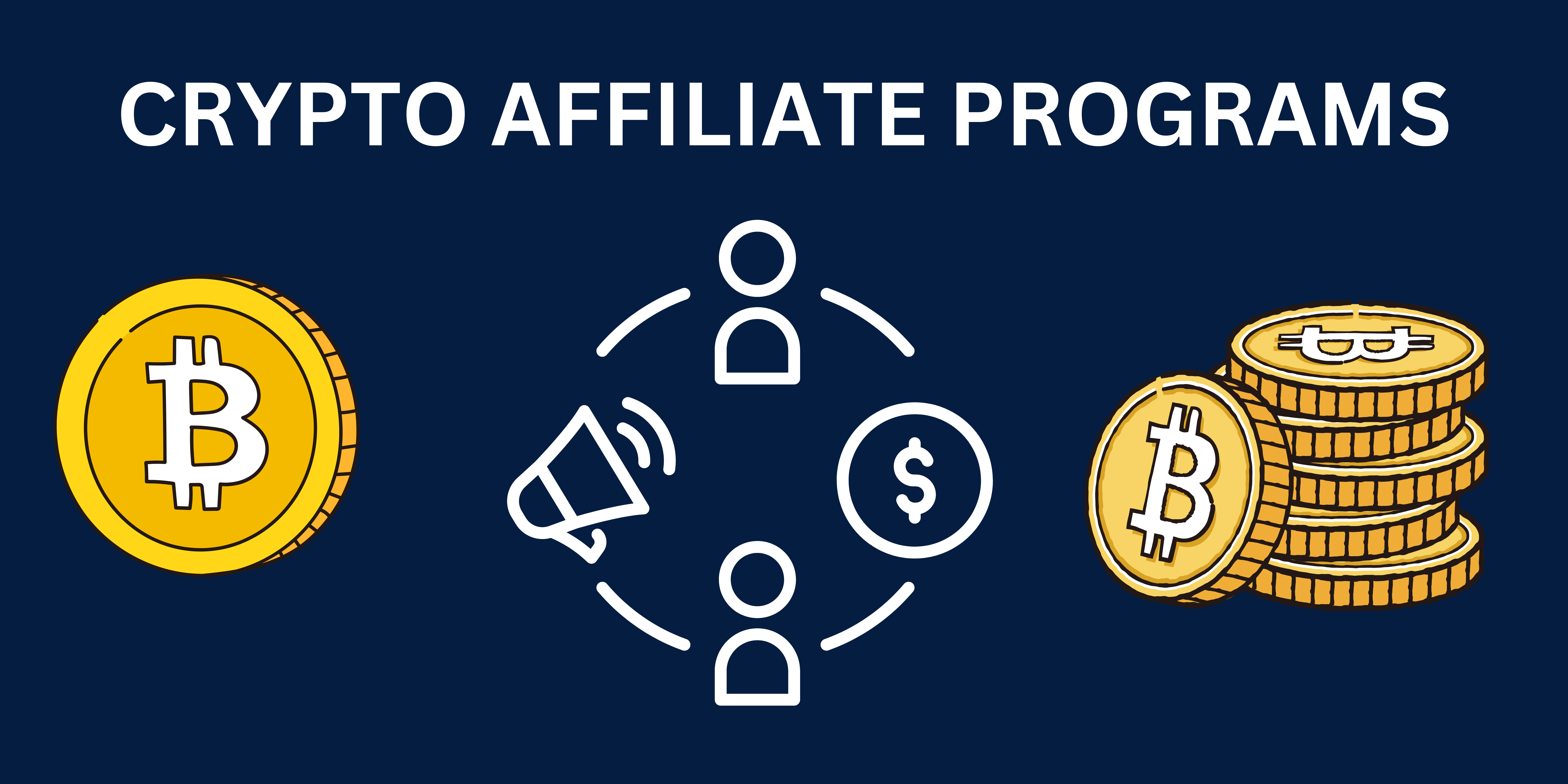 What is Crypto?
Cryptocurrency, which is gradually gaining popularity since it was introduced by Satoshi Nakamoto in 2013 is a digital or virtual currency.
It is used to make payments online for goods and services. It works based on blockchain technology. Cryptocurrency is a decentralised currency.
This means that it is not issued or controlled by any government, middleman or central authority. 
Blockchain technology is a set of blocks that records transaction information and it cannot be tampered with.
This is because it is a computer network. Transactions are recorded and saved on the computer network permanently. 
There are three key reasons cryptocurrency is preferred to the normal mode of making online payments. 
With the normal mode of making online payments, international transactions are expensive and take more time to complete. Cryptocurrency, on the other hand, makes international transactions fast, easy and less expensive. Transactions are carried out at little or no cost.

The normal mode of making payments requires a middleman. It is regulated by the government or a central authority which is the Central Bank of Nigeria, as in the case of Nigeria.

The presence of middlemen or third parties makes it more difficult to prevent our sensitive data from being stolen by hackers or fraudsters. 
However, with cryptocurrency, we do not need to be worried about what happens to our data.
This is because our data is saved in a computer network that cannot be tampered with. This can be of advantage to evil and dishonest men.
They can make transactions anonymously and will not be caught. 
Is crypto good for affiliate marketing?
When it comes to affiliate marketing, cryptocurrency is a hotcake. This is because it is gradually gaining acceptance. Hence, they have high commission rates. Binance for example offers a 20-40% commission rate for affiliate marketing. 
In addition, cryptocurrency is largely accessible.
It can be accessed as long as there is a stable internet connection.
This makes it a product worthy of promotion. Cryptocurrency is not restricted to a sect or people. As long as you have a stable and working internet connection, you are good to go. 
Furthermore, cryptocurrency is also good for affiliate marketing because different types of cryptocurrency products and services can be promoted by affiliates.
The products and services that could be promoted include wallets, mining rigs and exchanges.
How to do crypto affiliate marketing?
Carrying out cryptocurrency affiliate marketing is not difficult and it is 100% free. Only a little understanding is needed and I will try to provide that in this article.
First, all you need do is Google search "Cryptocurrency Affiliate Programs".
Look through the search results, read about the available Cryptocurrency Affiliate Programs and choose the best affiliate programs. You should pick the one with the highest commission rate. 
Assuming the Cryptocurrency Affiliate Program you chose is Binance, visit Binance's website. Create an account for free. Then, visit your profile/dashboard. Locate "referral" and click on it.
You would find an option for you to copy your referral link which can be shared on your personal finance blog, YouTube, TikTok and Instagram. 
13 Best Cryptocurrency Affiliate Programs for Bloggers
1. Binance Affiliate Program
Binance allows its users to trade and store cryptocurrencies online. It has over 350 cryptocurrencies listed, about 120 million registered users, and about $38 billion is accrued in the 24-hour trading volume in the Binance exchange.
0.10% is deducted for every transaction in Binance. 
Binance requires that prospective affiliates should have more than 5000 followers on social media.
Those intending to promote Binance in a trading community should have more than 500 members in the community.
To promote Binance, you need to sign up to be an affiliate. Then, create and share your affiliate link with your network. 
Binance Affiliate Program Commission rate: Up to 50%
Binance Affiliate Program Cookie Duration: 90 days
2. Huobi Global Crypto Exchange 
Huobi Global Crypto Exchange Affiliate Program is open to anyone. However, users with very strong social clouds are likely to earn more.
Hence, you need to have a large traffic to promote this product on a personal finance blog if you will make the most out of it. As an affiliate, you can earn up to $80,000 on a monthly basis. 
Referrals stand the chance of earning 5672 USDT upon joining Huobi and 100,000 USDT Airdrop daily. In 9 years of establishment, Huobi has never recorded a security breach of information. This is a good selling point. 
Huobi Global Crypto Exchange Commission rate: 30% of all referral transactions for up to two years
Huobi Global Crypto Exchange Cookie Duration: Unknown
3. KuCoin Affiliate Program 
KuCoin records over 16,000 affiliates in over 140 countries. Affiliates also have the opportunity to monitor their activities on their dashboard.
Those who are willing to promote KuCoin on their social media platforms or communities should have at least 5000 followers on their social media accounts and at least 500 members in their communities. 
On KuCoin Affiliate Program, 50% of the trading fee of referrals is given to affiliates. They also receive the second tier of commission when the referrals also become KuCoin affiliates. They will earn a 5% referral bonus extra. 
KuCoin Affiliate Program Commission Rate: 50% 
KuCoin Affiliate Program Cookie Duration: 7 days
4. Coinbase exchange
Any individual who intends to promote Coinbase products needs to apply to be an affiliate on impact radius.
Afterwards, they would get the link to promote the products on their blogs or other social media platforms.
Affiliates can get paid in local currency asides from cryptocurrency through a PayPal account or their local currency.
They are entitled to $10 on every referral. 
Coinbase exchange Affiliate Program Commission rate: 50% of referral's trading fee in the first 3 months.
Coinbase exchange Affiliate Program Cookie Duration: 30 days
5. Kraken Affiliate Program
The commission to be earned from being an affiliate of the Kraken Affiliate Program is for a lifetime. As long as the referrals keep trading, you will keep earning.
There are no deadlines for the affiliate program. Payouts on the Kraken Affiliate Program are paid directly to bank accounts instead of exchange accounts.
The payout will also be received according to the default currency set up when the bank account was created. 
To be an affiliate on the Kraken Affiliate Program, a minimum of 5000 followers and subscribers are needed on the website, blog or social media platform.
Promotions are allowed on non-finance or Crypto related social media accounts. Websites and mobile apps used to promote Kraken products must be finance or Cryptocurrency related.
The traffic volume of the sites does not matter. Hence, even new sites with little traffic can join Kraken Affiliate Program.
Lastly, any Facebook group used to promote Kraken products must have a minimum of 5000 followers and it must be finance related. 
Kraken Affiliate Program Commission rate: 20%
Kraken Affiliate Program Cookie Duration: 180 days
6. Paxful Affiliate Program
One of the benefits of the Paxful Affiliate Program is that affiliates can keep track of their activity through their dashboard.
Anyone can join the program and the limit for withdrawal is $10. The amount will be withdrawn into the Paxful Wallet. 
Paxful Affiliate Program Commission Rate: 50% of the referral's escrow fee (for every person the referral refers, affiliates will get an extra 10% commission)
Paxful Affiliate Program Cookie Duration: Unknown
7. CoinMetro
Affiliates of CoinMetro earn $10 when their referral deposits are not less than $50 in any FIAT currency.
Users of CoinMetro can deposit, buy, sell or withdraw cryptocurrencies of any kind. 
Anyone interested in joining CoinMetro Affiliate Program should follow this link.
CoinMetro Affiliate Program Commission Rate: Up to 40% from referral fees + 10% commission on the referred's referrals
CoinMetro Affiliate Program Cookie Duration: Unknown
8. Cryptohopper
Cryptohopper is a cryptocurrency trading bot which has over 300,000 users. It is a good platform because it allows you to trade 24/7 with the help of a bot.
Tools like DCA and Arbitrage are what the bot uses to make charts and make good predictions. Cryptohopper cannot be used for free. Individuals who want to use it have a 7-day free trial. 
Cryptohopper has over 25,000 affiliates who earn an average of $420 as commission per sale. The minimum amount to be received as payment is $50 per month. 
Cryptohopper Affiliate Program Commission Rate: 10%
Cryptohopper Affiliate Program Cookie Duration: 30 days
9. Ledger Affiliate Program
Ledger is a hardware wallet that allows cryptocurrency traders to buy, grow and exchange cryptocurrencies.
Three types of Ledger Wallet are available for these purposes and they are Ledger Stax, Ledger Nano X and Ledger Nano S Plus. 
Asides from the 10% commission on referral, affiliates stand the chance to get ledger devices for free, opportunities for sponsorships, and access to giveaways and ledger events.
Ledger Affiliate Program Commission Rate: 10% per sale
Ledger Affiliate Program Cookie Duration: 12 months
10. Coinpanda
Coinpanda helps cryptocurrency enthusiasts calculate their cryptocurrency and bitcoin taxes.
Cryptocurrency tax reports are usually received in 20 minutes with Coinpanda. The tax reports are imported from over 800 wallets and exchanges and are received free of charge.
It is trusted by over 80,000 investors. 
Coinpanda provides reports of over 50,000 Cryptocurrencies and it is supported in over 65 countries.
Users are provided with a personal dashboard to monitor their taxes and activities and receive their reports. 
Coinpanda Affiliate Program Commission Rate: 20% base commission. It could go up to 40%
Coinpanda Affiliate Program Cookie Duration: 7 days
11. Bitcoin IRA 
Bitcoinira allows Crypto users to invest in Cryptocurrency with IRA. Users can buy and sell cryptocurrency at any time of any day on the platform and over 60 cryptocurrencies are available on the platform.
Bitcoin IRA has over 170,000 users who are presented with a dashboard with many features that can help them monitor their trading.
Affiliates earn up to $72 for every new client referred which is paid monthly. To join the Bitcoin IRA affiliate program, visit this link.
Bitcoinira Affiliate Program Commission Rate: Exact value unknown
Bitcoinira Affiliate Program Cookie Duration: 30 days
12. Cryptoview
Cryptoview is a Cryptocurrency Portfolio Manager and multi-exchange platform. The platform is easy to navigate and user-friendly.
Newbies and even professional Cryptocurrency traders will find the platform useful.
Crytoview is laden with various trading tools, a Cryptocurrency events calendar, and a Cryptocurrency Portfolio Analytics page. 
Cryptoview Affiliate Program Commission Rate:  $20 per subscription
Cryptoview Affiliate Program Cookie Duration: 90 days
13. Trezor
Trezor has over a million users. This makes it a huge selling point. It was the first recorded hardware wallet in the world.
Individuals or businesses interested in promoting bitcoins and Trezor can visit this site.
Payouts on every transaction performed on Trezor are via Wire transfer or bitcoin and it is done every month. Follow this link to join Trezor Affiliate Program.
Trezor Affiliate Program Commission Rate: 12-15%
Trezor Affiliate Program Cookie Duration: Unknown
Final Thoughts
Cryptocurrency affiliate programs are worth promoting on personal finance blogs. They have reasonable commission rates with little barrier to entry.
The best way to promote cryptocurrency affiliate programs would be to build a small (or large) community of crypto lovers and provide them with valuable content.
That way, you will become their number-one resource for crypto-related information and they will trust whatever crypto products you recommend. 
RECOMMENDED ARTICLES