Do you want to know blog SEO can drive more traffic to your blog?
The steps in this post will teach you how to grow your blog to roughly 1.5 million organic search engine visitors per month.
Blog post has been proven to be one of the fastest ways to attract new customers, gain visibility, and increase traffic which in turn generates the biggest return on investment. If you're writing a blog for a business, those stats make blog SEO a pretty big deal.
Even if you're blogging just for fun, SEO will help you boost your message and connect with more readers.
As a result, having your web pages appear on the top search results grants many benefits, from increasing organic traffic to boosting your site's credibility.
This article covers the importance of applying SEO strategies to your blog post. Additionally, we'll look at best practices for blog posts.
What is Blog SEO?
Blog SEO is the practice of creating,

writing, optimizing, publishing, and updating

a blog to improve rank in search engines

like Google and Bing.

This practice also includes content writing, keyword research, link building, image optimization, etc.
Common tasks associated with blog SEO
On-page optimization

Creating quality content

Performing keyword research

Link Building

Installing plugins

Improving page loading speed

.
Is Blogging Important to SEO?
Blogging is one of the most practical strategies that will help you grow your organic traffic and reach more customers. 
Blogging brings in traffic, and those leads and traffic turn into customers and help create an audience. Search engines are an important traffic source for blogs that can help build brand awareness.
Blogging boosts SEO quality by positioning your website as a suitable answer to your customers' questions. This makes your site more appealing to visitors. Blogs that answer the questions consumers are asking about your industry are helpful for SEO.
Blogging is a great way to slowly nurture your audience and prove your expertise when it comes to your industry and product line.
Blogging builds loyalty and trust. Providing advice and reliable information that consumers can use will establish authority on the topics you discuss. A crucial part of improving content is the E-A-T concept, which stands for expertise, authoritativeness, and trustworthiness.
Blogging Increases visibility. Creating great content is making sure it is optimized for search engines is a sure way to help increase visibility to people who are using search engines (like Google) to find your product or service. It is important to incorporate focus keywords throughout your unique headings, subheadings, and content. 
Blogging helps increase newsletter signups.
Blogging helps generate more leads for your business which increases sales.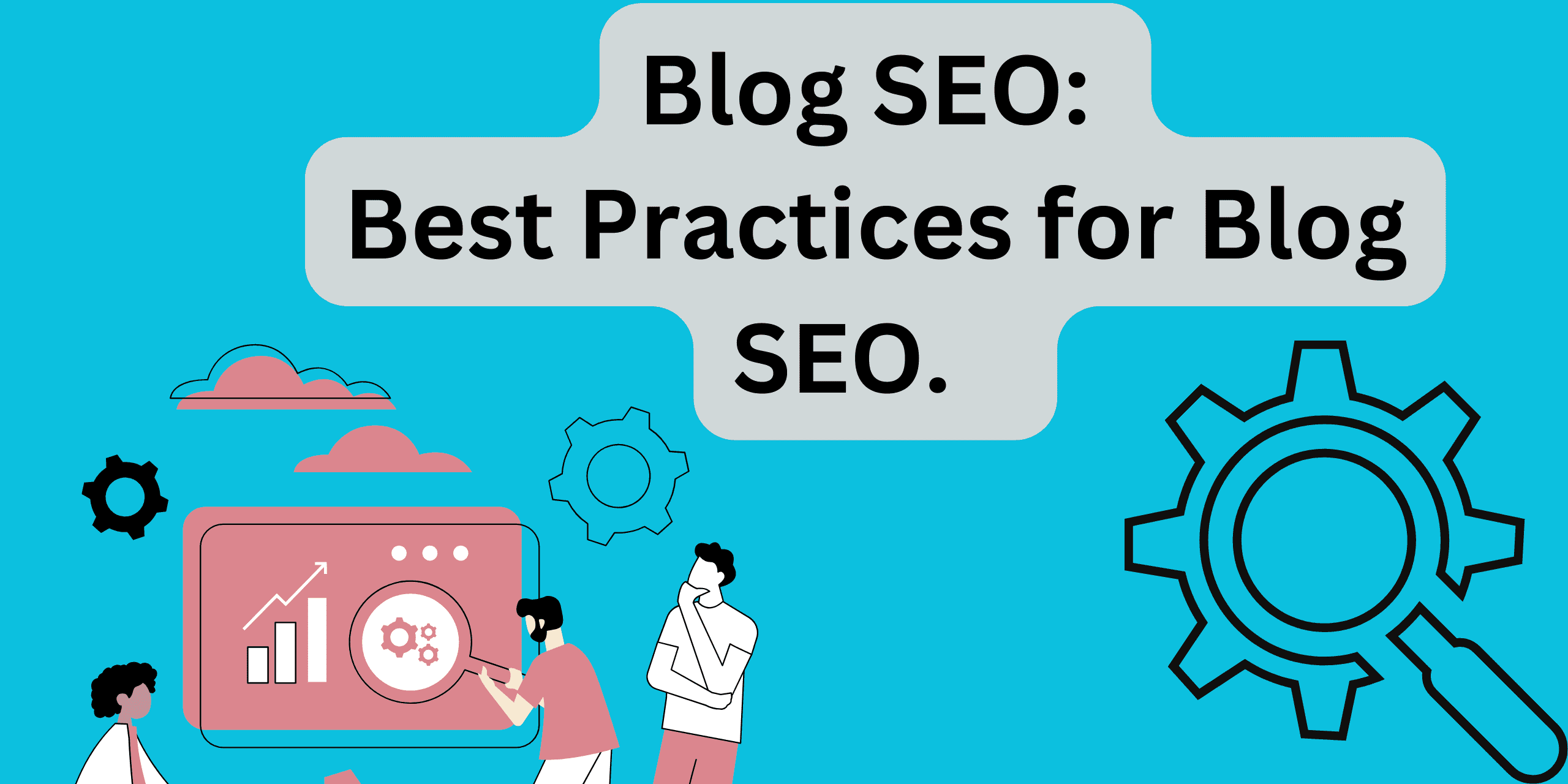 Best Practices for Blog SEO
Keyword research.

Search Intent

Create quality content.

Use headings to your benefit.

Optimize your content for featured snippets.

Optimize your images and videos.

Link Building

Create user-friendly URLs

.

Update existing content.
1. Keyword Research
Keyword research is an integral part of SEO, it determines the type of content you will create. Consistently optimizing the content with the right keywords can significantly improve your search ranking.
Optimizing your post around different keywords, Google and other search engines will get confused. They won't know what your content is actually about.
If you want your content to gain recognition and drive traffic to your website, then you need to get it right with keywords.
Focus on a primary keyword and use Use keyword research tools like Semrush's Keyword Magic Tool, Answer The Public, Google Keyword Planner, etc.
Keyword Research will provide valuable insight into the queries of your target audience.
So, if you can, add your target keyword to elements like:
The title

The main headers

The introduction

Conclusion

The page's URL
2. Search Intent
Search Intent also known as user intent is the reason for every search query, understanding and satisfying the why behind every search is Google's ultimate priority.
To rank on Google, you must make sure your pages satisfy the search intent behind the targeted keyword used whether that's finding an answer to a question or a topic, looking for a specific website, purchasing a product, etc.
Immediately you know your topic, get to know the reason why a user types a particular query into a search engine.
Any page that ranks on the first page has passed Google's test on search intent. Google understands the keywords people are searching for and if your content passes the E-A-T test, Google will show it to users.
3. Create Quality Content
Content is the driving force for websites to communicate their thoughts, provide information, or sell products.
SEO Content Writing is content written and optimized to rank on the first page of search engines.
SEO Content Writing is a powerful way to show your expertise in your industry by creating authoritative and trustworthy content.
Creating high-quality, correct, concise, and human-friendly content that will engage readers is the best way to improve your chances of higher ranking and more traffic, Google is likely to reward you.
Google's guidelines for creating quality content is:
Easy to read

organized

Unique and fresh

Satisfying the search intent

Following Google's E-A-T guidelines. 
Keep your buyer, their challenges, and interests in mind by choosing topics that will resonate with your potential customers and address their pain points.
4. Use Headings to your benefit.
The title of your blog post is the first element a user will see when they come across your article, and it determines if they'll click or keep scrolling.
Compelling SEO-optimized headings will help crawlers who are skimming your blog for an overview of what your article will cover, that's your H1. Then follows H2s, H3s, and H4s for the subtopics in the content, if the right keywords are used on the headings there is a good chance of ranking on SERP.
For a compelling title, use data, ask a question, etc then add power, emotional, uncommon words to it. This will grab your readers' interest, increase curiosity, and keep them on the page. 
Headings signal to Google and other search engines what your page is about and they're fundamental for SEO content. Arrange your headings properly coated with a captivating power word and keywords then see Google drive serious traffic to your website.
Do the following with your headings:
Add your target keyword.

Match search intent.

Write a compelling title tag and meta description.  

Include your target keyword in the H1 tag. 

Include your target keywords in the body.

Avoid

keyword stuffing

Incorporate numbers

Keep them descriptive but concise

Add alt text to images.

Link to relevant internal resources.  

Use short, descriptive URLs.
5. Optimize your content for feature snippets.
Featured snippets also known as answer boxes, they're short snippets of text from blog posts or direct answers to search queries. Google uses a featured snippet to show the best answer to a search query. They typically appear at the top of the organic results.
To earn a featured snippet on Google, you'll have to give a well-detailed answer to the question and start each sentence with an actionable verb, like "click", "check" "select." etc.
The best way to optimize your post for featured snippets is to use lots of subheadings in your post.
6. Optimize your images and videos.
Images are a great way to improve the visibility of your website and visitor's user experience in search engines. 
Optimize images right and include one main keyword for context images, this contributes to your site's overall SEO and boosts organic traffic. 
Use JPEG and PNG image formats on the web and know that PNGs are best suited for images that contain text, line drawings, etc. 
Add alt text (short for alternative text) to describe what's happening in the photo, it helps Google and also those who are visually impaired to understand why the photo is in your post.
Compress images to minimize their size without degrading quality to reduce page loading time and increase page speed as it is important for a good user experience.
Ways to optimize your images
Choose the Best File Format

Compress Your Images

Provide Alt Text for Images

Lazy-Load Your Images etc.
Videos and GIFs are interesting additions to your blog posts. They make your content more visual, interactive, and memorable.
7. Link Building
Link building is one of the most important and easiest ranking factors that is used by search engines.
With good link building, your content gets easily discovered especially when you receive backlinks from high domain authority websites. Linking to high-domain authority websites offers blog readers extra reading material to expand their knowledge, shows that you've done your research on the topic and it also strengthens a blog post.
In most cases, Link building is a deliberate practice done by the website or business owners to acquire backlinks and increase search ranking.
If this is not done right, the consequences can hurt your website's ranking. Backlinks from unrelated sources will have a negative influence on your website.
As you build out your blog SEO post to rank in Google, don't be afraid to build backlinks externally.
Inbound links and internal linking of other pages on your website to your content show search engines the relevancy of your content. 
8. Create user-friendly URLs.
Look at the URL structure before you publish your blog SEO post. A clean URL structure is important to creating an SEO-friendly website and makes it easy to read, and understandable by visitors the structure of your website and the content they're about to see.
URLs are used by search engines to crawl and index websites, make sure to add the target keyword on the URL and make it short, custom URLs for every post since long URLs aren't great for SEO.   
How to create a well-structured URLs
Use short URLs

Include your target keyword

Generate URLs based on your blog title.
9. Update Existing Content
9. Update Existi
To improve your SEO, creating new content regularly is a great SEO strategy.  Moreover, ideas might not come up regularly so you can update older content with useful information to improve your website's SEO, this will keep people coming back to the site and also attract new visitors.
Make sure you create content that brings value to your audience, fits the current issue to keep your target audience interested,  and helps build your brand reputation.
A new piece of content takes a lot longer to settle on the search engine results page (SERP) and gain authority but by updating an old post, you could reap the benefits fairly immediately and it extends its lifespan.
Conclusion
Search engine optimization is an internal part of digital marketing strategy. SEO will increase your brand credibility, increase visibility, improve user experience, and reduce your marketing costs.
SEO has a lot of methods, Here are five of the most important ones:
Use keywords strategically throughout your website
Link building
Choose a mobile-friendly design
Update web content regularly
Utilize free SEO tools
Improve your site's loading speed
Blog SEO practices can take a while to implement, but the results will be worth it.
On creating a search engine-friendly website, this article will be a good source of guidance to help you and drive more traffic to your online business.