In this article, you will learn how to get backlinks to your website for free. 
It is important to note that not all backlinks are created equally, some can hurt your website's reputation while others can boost your domain authority and set your website on the path to exploding with organic traffic. 
At the end of this post, you will know where and how to build quality backlinks for free without spending on link-building schemes that won't work.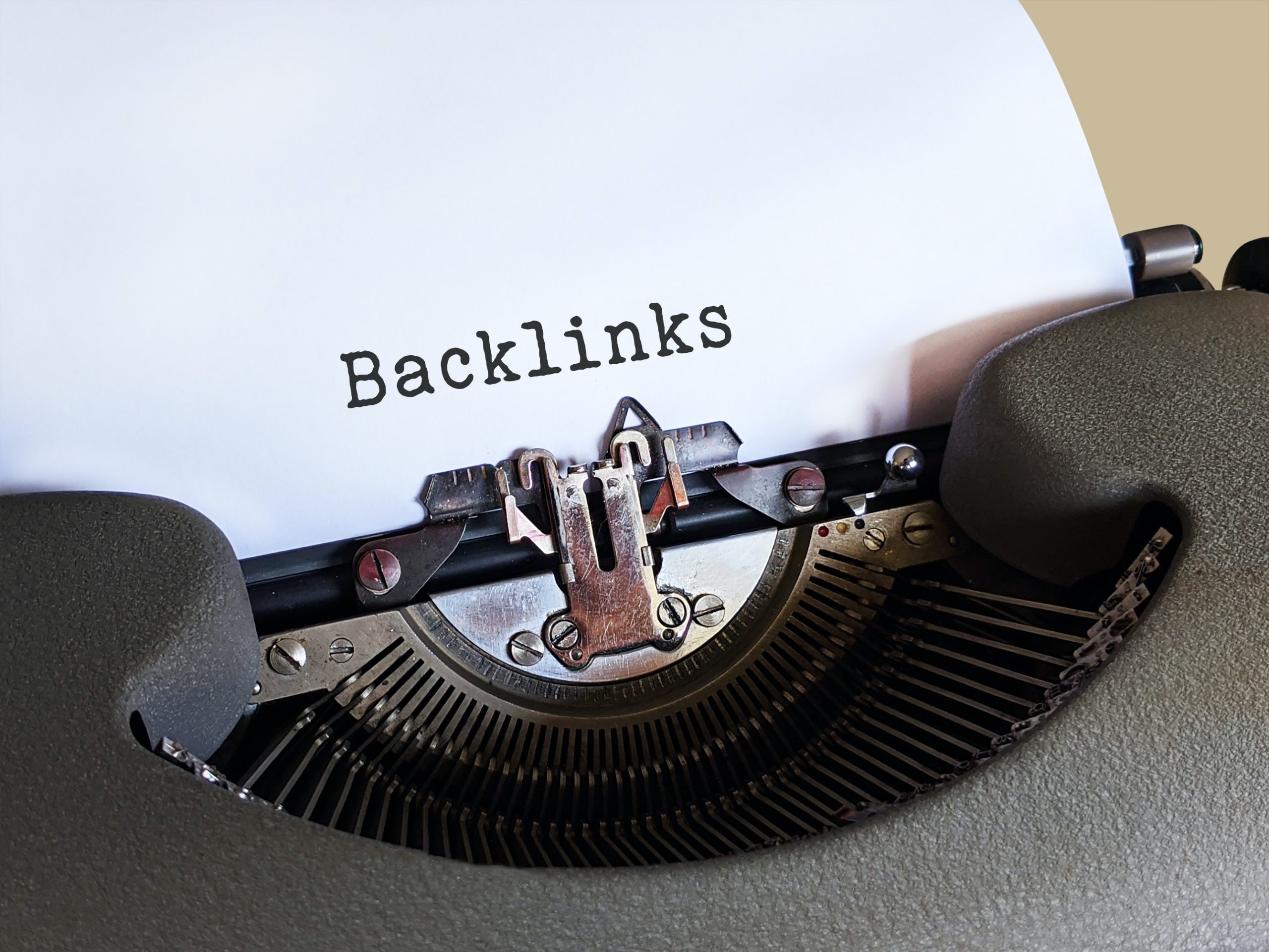 Is it OK to pay for backlinks?
Paying for backlinks will hurt your website's reputation if you pay website owners with low-quality content/domain authority to link from their website to yours. 
Don't do it. It is a trap. 
Some websites like Adsy promises to connect you with numerous publishers to help you post on their sites for a fee (and link back to your site)
But TrustPilot reviews about Adsy do not seem to be nice at all.
Other similar sites like Adsy also exist on the internet with false promises.
Side note: I am in no way trying to defame Adsy (Thank you for understanding). 
There are good reviews about Adsy as well. 
However, It is okay to pay for backlinks if you have the money and if the links are from quality "non-spammy" websites with valuable content and high domain authority.
Link buying still exists, even if it is not publicly discussed.   
Since Google still considers backlinks as a major factor to determine the relevance of website pages and content. It has strict policies that regulate link buying or link exchanges. 
Buying and exchanging links for ranking purposes violates Google's Spam Policies. Consider this as a disclaimer from us (we don't encourage link buying). 
But the good news is that you can get backlinks to your website for free without paying for them. 
There are safer ways to get quality backlinks for free without breaking the bank. 
These are the tips that will be discussed in this article. 
Which backlinks should be avoided?
Do not build links through: 
Unnecessary blog commenting 
Websites with low domain authority 
Spamming other people's social media groups or posts 
These types of links will not add value to your website, rather, it is a bad strategy that can kill your website's reputation in the eyes of search engines. 
Do backlinks increase traffic?
Quality backlinks can account for 70% to 80% of a website's traffic. The more backlinks a website has, the higher the traffic from SERP.
The essence of a backlink (outbound link) is to reference useful content on another website. If the "referenced"  content happens to be on your website, beautiful. 
The ripple effect is that it creates room for traffic for your website. 
When different publishers link many times to your website, Google sees your website as authoritative enough to be shown to more people on the Search Engine Result Page. – SERP.
So, yes, backlinks do increase traffic (I mean quality backlinks).   
Quality Backlinks VS Bad Badlinks 
| | |
| --- | --- |
| Quality Backlinks | Bad Backlinks |
| Come from authority websites with high domain authority (websites with 50+ DA) | Come from mediocre websites with unuseful content  |
| It helps to boost your website's DA. | Can hurt your website's reputation |
| Are a major ranking factor for Google | Kills Google's trust in your website/content  |
The way and manner to build backlinks should depend on your niche or business type. 
Getting backlinks for online-based businesses or SaaS should be approached differently from link building for Local businesses (Local SEO).
I have written a comprehensive article on link building for Local SEO. Please read the article and let me know what you think. 
How to get free high-quality backlinks
There are 4 ways to get high-quality backlinks from reputable websites without breaking the bank. 
These 4 methods range from "easy to hard". Meaning the easy method requires less effort while the hard method requires more effort, guts and persistence. 
Let's dive in. 
Content Syndication method (Easy) 

RSS Feed method (Medium) 

Outreach Method (Hard)

Local business listing (Easy)
1. Content Syndication Method 
This is simply, content redistribution. This method works perfectly well if done the right way. 
In this method, you simply reuse (or repurpose and publish) your existing blog articles on other platforms with high domain authority. 
Let's say you have already written and published an article on your blog. 
Republish the same article on other places like Medium, LinkedIn and Quora and ethically link back to other articles on your main website. 
These platforms won't penalise you for republishing already published content (it's your content anyway). 
Warning: Don't republish content published elsewhere on your main website – Google will penalise you. 
Only republish what is already existing on your main website to other platforms mentioned here. 
Disclaimer: I can't guarantee how long this method will be effective in building backlinks. This article will be updated once something changes. 
Why is content syndication important? 
If you have a new website with low domain authority, it is hard to get noticed early even if you publish the best content in the world. 
It is easier for the same content to rank on a website with high domain authority. 
But how do we get our content published on websites with high domain authority? 
The simplest way is to leverage reputable microblogging, vlogging or Q&A platforms.
These platforms are;
LinkedIn

Medium 

Quora and 

Youtube 
i) LinkedIn
Apart from being a professional social networking platform, LinkedIn has a feature that allows people to publish long-form articles for free. 
An article published on LinkedIn has more ranking potential than an article published on a beautifully designed NEW WordPress website with low domain authority. 
LinkedIn has an insanely high domain authority of 99. 
Let's compare this to your website's current domain authority of  10,20,30 or 40.
Recall that the main idea is leveraging LinkedIn domain authority and sending backlinks to your website. 
LinkedIn's goal is to create an opportunity for users to be discovered by a wider audience within and outside the platform, which is why your articles will be made available on the world wide web. 
How to Publish an Article on LinkedIn
Sign up for a free account on LinkedIn (If you are not already on LinkedIn) 
Go to the homepage on your desktop computer and you  will see four tabs (Photo, Video, Event and Write Article tabs)  under the space provided to "start a post"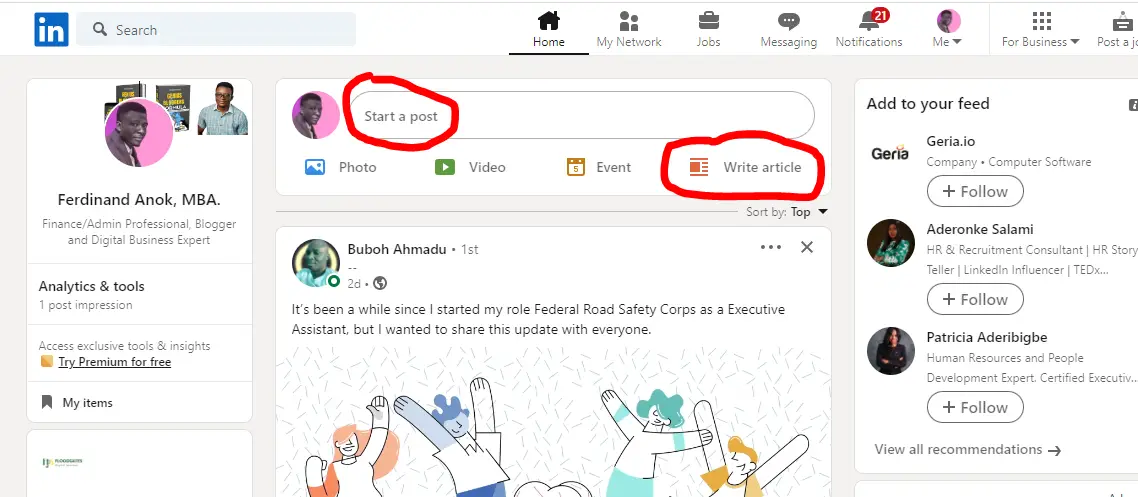 Click on the "Write Article" tab and create your new article. 
If you click on the "write article" button, a new pop-up will appear, asking you to choose to publish on your profile or a page you own. I am pretty sure there may be only one option (or non at all) if you don't have a page on LinkedIn.
Select one (1) option.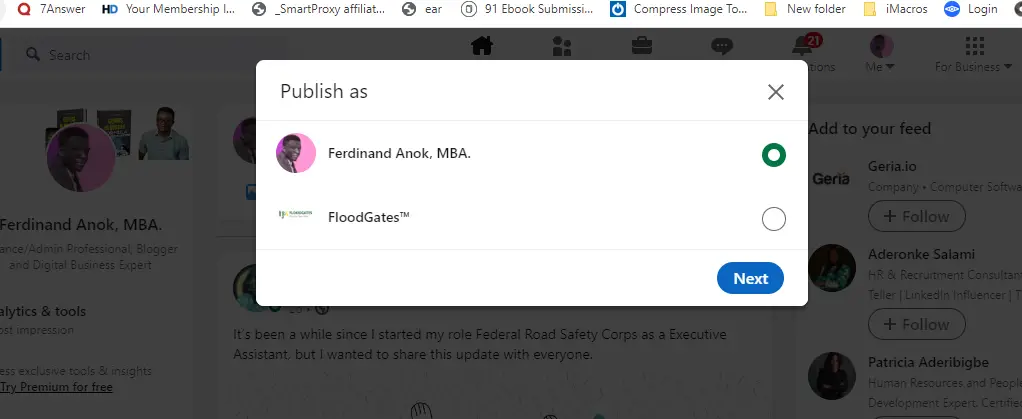 If you choose to publish with your profile, your LinkedIn network will see your content, but if you decide to publish via your LinkedIn page, the article becomes visible to only the page followers. 
Make sure to craft a great headline, and cover image as well as a well-formatted article.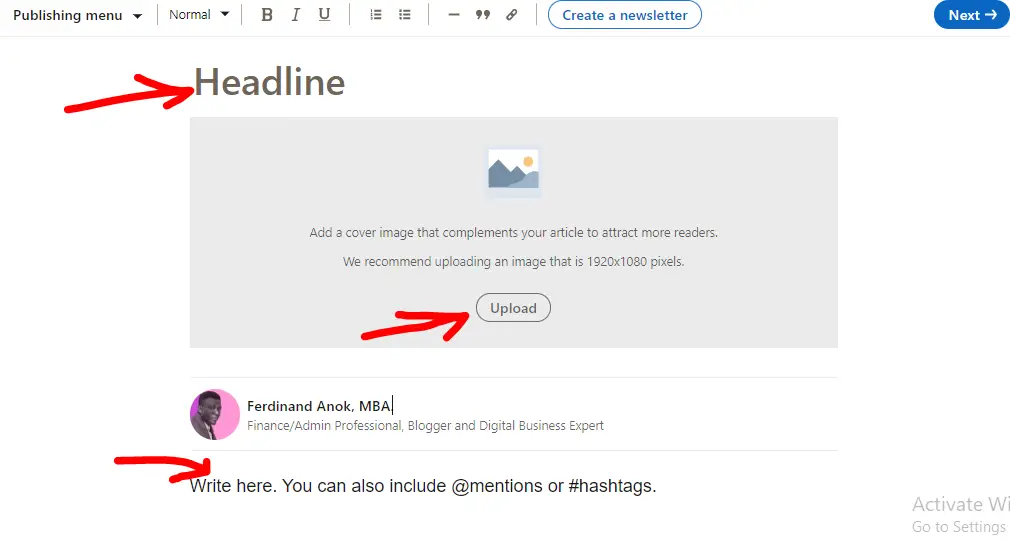 Note: You will need to change your LinkedIn settings to make your post visible to everyone on the web, or else you risk limiting your article's visibility to only LinkedIn users. 
Read this article to know how to set your LinkedIn visibility status. This is key if you want Google and other search engines to see your articles. 
That's how to publish an article on LinkedIn. 
Let's talk about publishing on medium. 
ii) Medium.com 
Medium is specifically built to support microblogging. 
Meaning you can publish unlimited articles on Medium for free (and get backlinks to your website for free)
Go to Medium.com and sign up.
Click on "Write Article" and enter the article title. 

Use the "Tell your story" area to type your main article body (or copy and paste your text).

Alternatively, import existing articles from your blog to Medium within seconds. 
This is how to do it. 
Go to your profile and click on "Stories", then select "Import a story"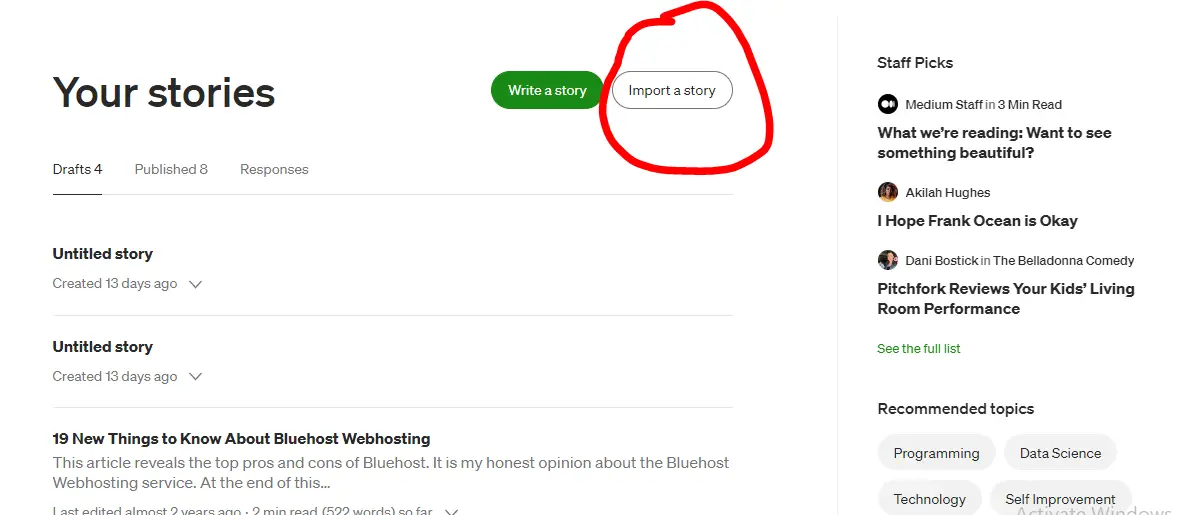 Copy and paste the article link into Medium and your entire article will be imported. 
An automated backlink to your website will be created at the end of your article. 
iii) Quora.com
Apart from being a leading question and answers website, Quora allows users to publish free posts. 
If you are looking for a good way to get backlinks to your website for free, leverage the opportunity on Quora and republish your existing (or new) articles there for free. 
Here's how to make a post on Quora
Go to Quora.com and sign up (if you are yet to do so). 
Similar to article publishing on LinkedIn, Qoura has three ways to interact on the platform. 
You can;  Ask a question, Answer a Question or Create a Post.
Select the "Post" option and publish your article.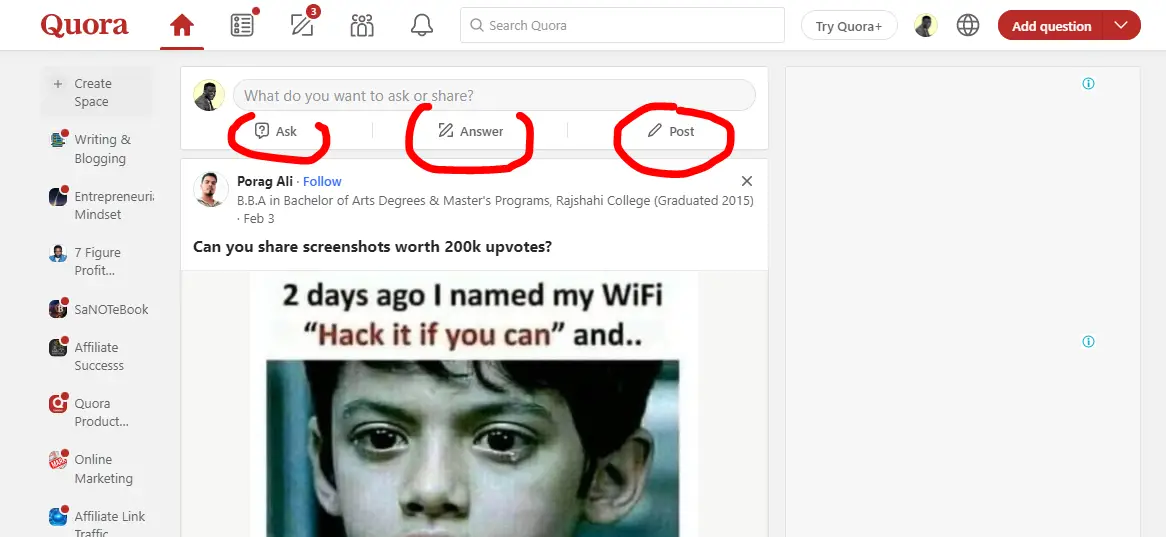 iv) Youtube
Youtube is the largest video-sharing platform on the internet, but that's not even the main catch, Youtube is a search-based platform, meaning content published on YouTube can generate traffic for years. 
This makes Youtube a reputable place to generate quality free backlinks. 
How to Get Backlinks to Your Website from Youtube 
Through Video Content & Video Description links: Simply repurpose your website content into a Youtube Video (or create a new relevant video). Make sure it is SEO-optimised for Youtube and packed with value. Add a link to the main blog article in the video description. Don't forget to point people to the link in the video description linking to your blog post. (some people prefer an article to a video). This will be highly effective if your article gains traction on Youtube.
 Through Youtube Community Posts: Youtube allows content creators to share rich media (including short articles or text-based content) with people.
 This may not necessarily be visible to the world wide web, but it is an extra step to connect with your subscribers on Youtube. Share briefs about your new blog post/Youtube video and include links to the main article or video. 
This can give you an extra backlink and add more juice to your link-building strategy. 
Do not post full articles here, create bullet points or summaries and refer them to the main content. Read more about Youtube Community Posts here
RSS Feed method:
This is an old but very effective method.
A lot of people prefer to have their eyes on what's happening on different news websites and blogs (organised in one place) without necessarily visiting the different websites.
RSS feeds make this possible. 
It gathers real-time information from different platforms and neatly organises them on one RSS feed directory.  
When you add your website's RSS feed to an RSS Feed aggregator website/directory, a snippet of your content will be automatically added to the directory whenever you publish new content, with a link to the full article on your website. 
This happens every time new content is published on your blog. 
The Importance of RSS Feed
It helps to create more visibility for your content 

It can bring more visitors to your website 

It adds backlink juice to your website. 

It can boost your domain authority 
WARNING: Many crappy RSS feed websites exist on the internet with low DA, poor navigation, and compromised website security. 
Select only RSS feed websites with 50+ DA and ticks all the boxes mentioned above.  
I have carefully researched and selected quality RSS feed directories for you. 
See the list of the top 5 trusted RSS Feed Directories below. 
Blogarama.com

Feedspot.com

Flipboard.com

(for publishers)
How to find RSS feed URL for your site
Simply add a forward slash to your site's URL. i.e. www.yourwebsite.com/feed
Here's an example of the RSS feed URL for this website, www.ferdinandanok.com/feed
You only add your RSS feed once and that's it. Although RSS feed directories have different policies (do check them out). 
The Outreach Method
The outreach method is simply reaching out to other website owners to discuss value exchange opportunities that will eventually translate to a free backlink or backlinks to your site. 
It's simple, you identify a website with a high domain authority of 50 and above.
You contact them via email, social media or through the "Contact Us" page on their website. 
The outreach method is by far the most effective method to get backlinks to your Website for Free. However, it is the hardest and most fatiguing. 
This can be done in the following ways: 
Guest Posting 

Offering to replace other sites' broken links 
a) Guest posting:
Many websites allow guest bloggers/content contributors to write and publish blog posts for free. 
When you get the opportunity to create and publish VALUABLE content on these websites, you are permitted to add 1 or 2 links to related articles on your website.
That's the simple logic behind Guest Posting. 
Why is Guest Posting an effective strategy to get backlinks for free
Because you have the leverage to write content for other authority websites that are ready to publish your content (if you comply with their requirements). 
When you receive a backlink from an authority website, it passes the authority to your website in a way that signals Google that your website is containing useful content and is becoming an authority website too. 
The more backlinks you get from authority websites, the better. 
This Youtube video explains everything you need to know about getting backlinks for free through guest posting 
b) Offer to replace other sites' broken links:  
Have you tried to visit a webpage and landed on an "error 404" page? 
I think everyone surfing the web has experienced this before. 
This happens because the page no longer exists, meaning the link is broken (broken link), and the page you land on is often referred to as a "dead page or link" by SEO practitioners.  
What's the negative impact of broken links on websites? 
It frustrates content readers who try to click on the links for more information 

Too many broken links can taint a  website's reputation 

Arguably, many broken links may send a bad signal to Google about a website's domain authority. 
Your job is to find other websites/web pages in your niche with broken links and offer your content to them as a  replacement. 
This is how it works; 
Contact the website owner (or someone responsible for content publishing), and inform them of the broken link you observed while reading their article. 
Commend them for the useful content, and recommend a highly valuable article on your blog that can be used to replace the broken link. 
SEMRush has a complete guide on how to use broken link-building as a strategy to get backlinks to your website for free. 
Local business listing (Easy method)
This is simply the process of listing your business on local business directories to gain more visibility and attract more customers. 
This strategy works perfectly for local brick-and-mortar businesses desiring to attract customers from the web to a physical location. 
As for local businesses with websites,  Local business listings can help to build backlinks to the e-commerce store or Agency website. 
Most business listing websites allow you to include links back to your website's products or service page(s) – this passes a link juice to your website and boosts local SEO for your business. 
This article about Link building for local SEO provides valuable secrets on how to build links for your local business and attract customers for free. 
To discover local business listing directories in your country, do a Google search with the keyword phrase + your country/location. 

List your local business in as many local business directories as possible and Include links back to your main website (where possible). 
Now you have discovered how to get backlinks to your website for free, but…
what's next?
Although Content Syndication, RSS Feed, Outreach, and Local business listing methods can get you quality backlinks for free, that can only happen if you put in the work to apply all the strategies outlined in this article. 
The best time to start is now, even if you don't have experience. 
Do you need expert advice on how to Grow Your Blogging Business from Zero to $4,000/Month in 6 months, book a consultation call with me and change get all the secrets I have used to scale my website traffic and monthly income. 
RELATED ARTICLES: