If you are looking for the right place to learn about sponsored blog posts and how to get paid to write or publish sponsored posts on your blog, worry no more, because, in this article, I will reveal details on this topic and what it takes to make money with sponsored posts.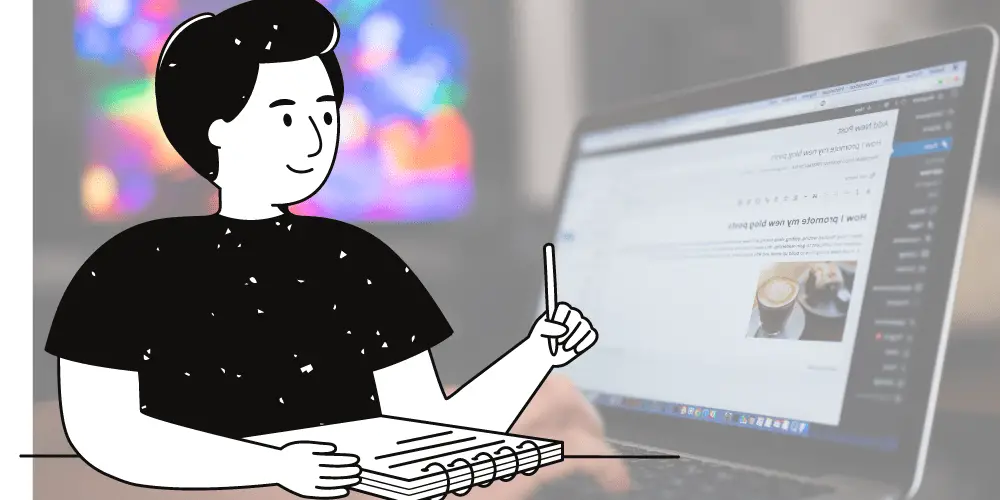 What is a sponsored post on a blog? 
A sponsored blog post is content paid for by another brand, company or website owner to be published on your blog for a certain period at an agreed rate. 
The purpose of a sponsored post is to increase visibility and generate traffic to the sponsor's website or another defined destination online. 
Sponsored posts are effective ways for brands to reach a wider audience organically. 
Primarily, bloggers get paid to write sponsored blog posts for the following reasons; 
To send outbound links (backlinks) to another website/blog: A backlink is a link from one website to a page on another website. Since backlinking helps with site ranking on search engines, website owners often opt to pay other bloggers to write and publish articles including links back to relevant pages on their website. This is a good practice If done ethically. Backlinks generated from a website with a good

domain authority

help with google ranking. 

To generate traffic and sales for a company's product or service. 

To increase brand visibility for the sponsor.
What does a sponsored post look like? 
A sponsored post looks like every other well-written blog post. Sponsored content is meant to look original, and organic without a conscious effort to sell or ask for link clicks. 
It must convey undiluted value with accurate information or data that either addresses a particular problem, provides clarity on an issue, entertains or educates. 
Except you are told, you may not "on your own" identify a sponsored article. 
If you do, it is not a well-written sponsored post that follows the rudiments of a sponsored article. 
However, some bloggers may decide to mark all sponsored articles on their websites as "paid posts" or "sponsored posts". This happens at the wisdom and discretion of the blogger. 
One key reason is that a blogger wants to use this as a disclaimer. 
Another reason is the need to comply with the local regulations of your country. 
An example is the requirement by the United States Federal Trade Commission, where influencers are required to disclose their relationship with brands. In this case, social media influencers are particularly required to add text or hashtags that indicate that the post is sponsored by a brand. 
It is better to tread on the side of caution. Find out whether there are regulations for sponsored blog posts in your country or state. 
Sponsored blog post examples 
The following are examples of sponsored articles written to create visibility for different brands.
Example 1:
This is a sponsored post published on Happy Happy Nester's Blog to promote Wente Vineyards. You will notice how the blogger wrote about her experience during a tour to Wente. Although this is a paid post, it did not ask for any link click, however the article strategically showcased the business and its products.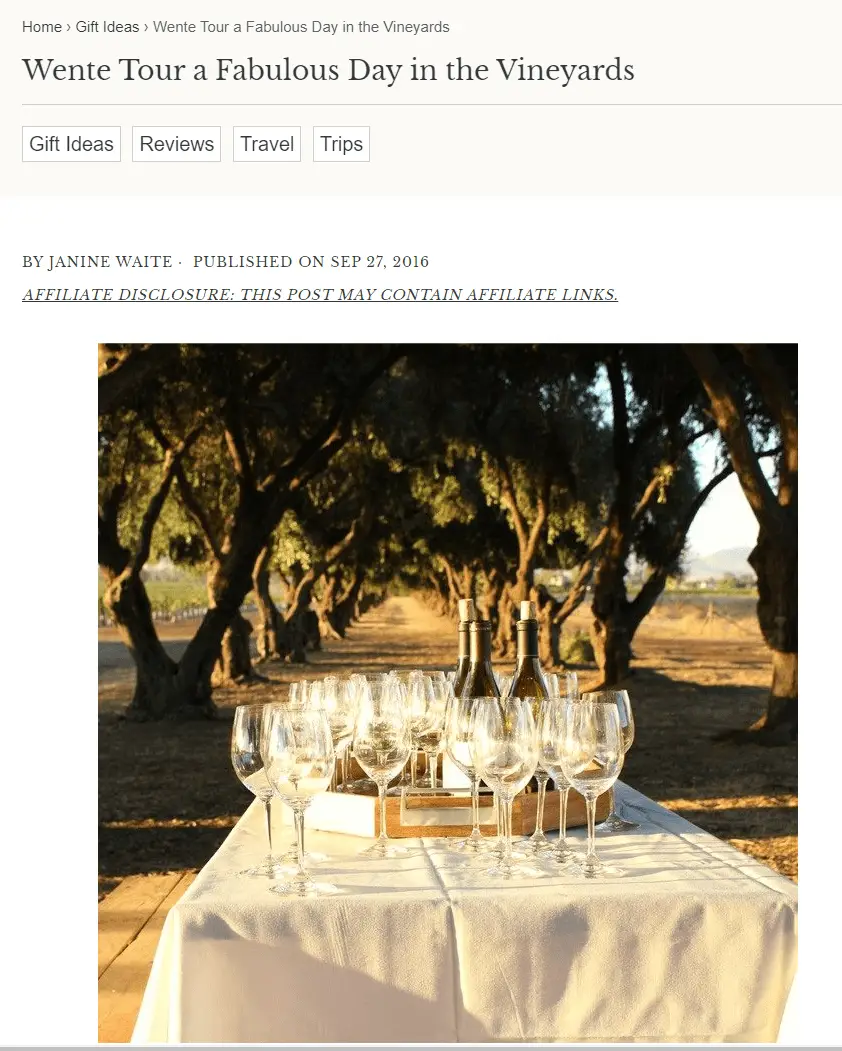 Example 2: 
Here's another sponsored article from Jilian Harri's Blog, written to promote Tophop (a clothing brand). In Jilian's article, she mentioned how she was searching for maternity jeans, and how she found her perfectly fitted jeans on Tophop.  
She went on to add sweet images on herself wearing the jeans. 
That's not all, she described  how the jean can be a prefect combo with some other stuff from her wardrobe.
See a screenshot of her article below: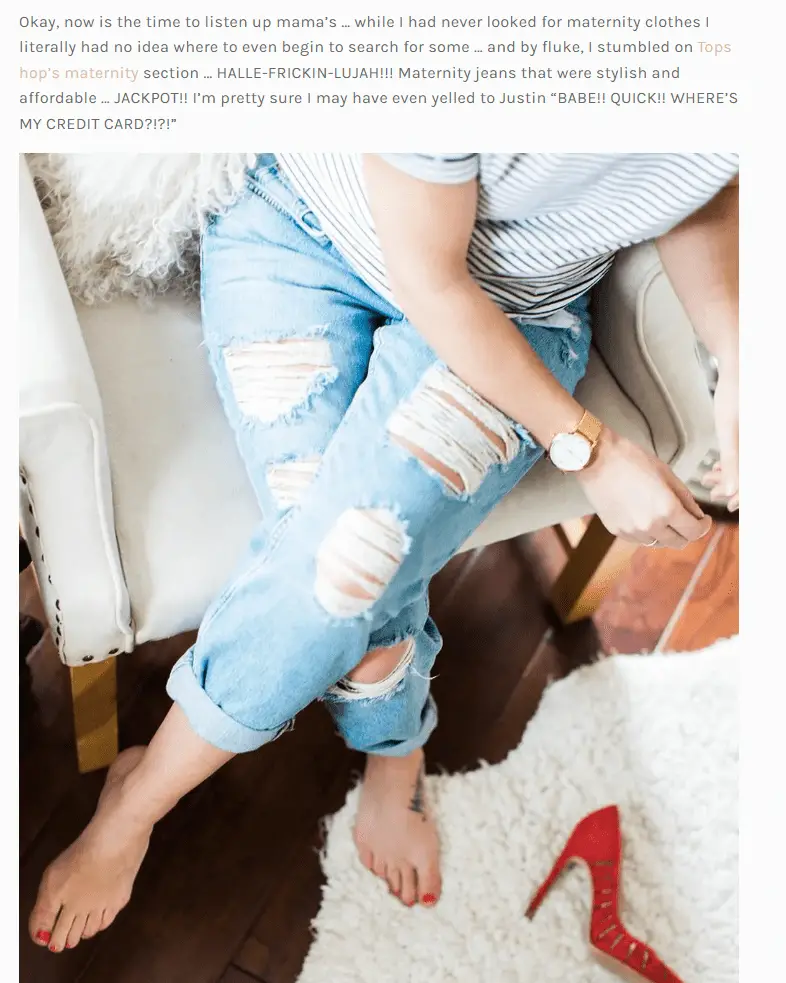 Example 3: 
This sponsored post example is similar to the earlier examples, but there is a slight twist here. The blogger,  Kelley Nan (a food, lifestyle, décor and entertainment blogger) highlighted key benefits of buying toilet makeover items from Bed, Bath and Beyond's e-commerce store.
To further entice her audience to take action, she did a complete toilet makeover with items from Bed, Bath and Beyond. 
Read Kelley Nan's article here.
Also, see a "before and after" screenshot taken from the sponsored post on her blog below.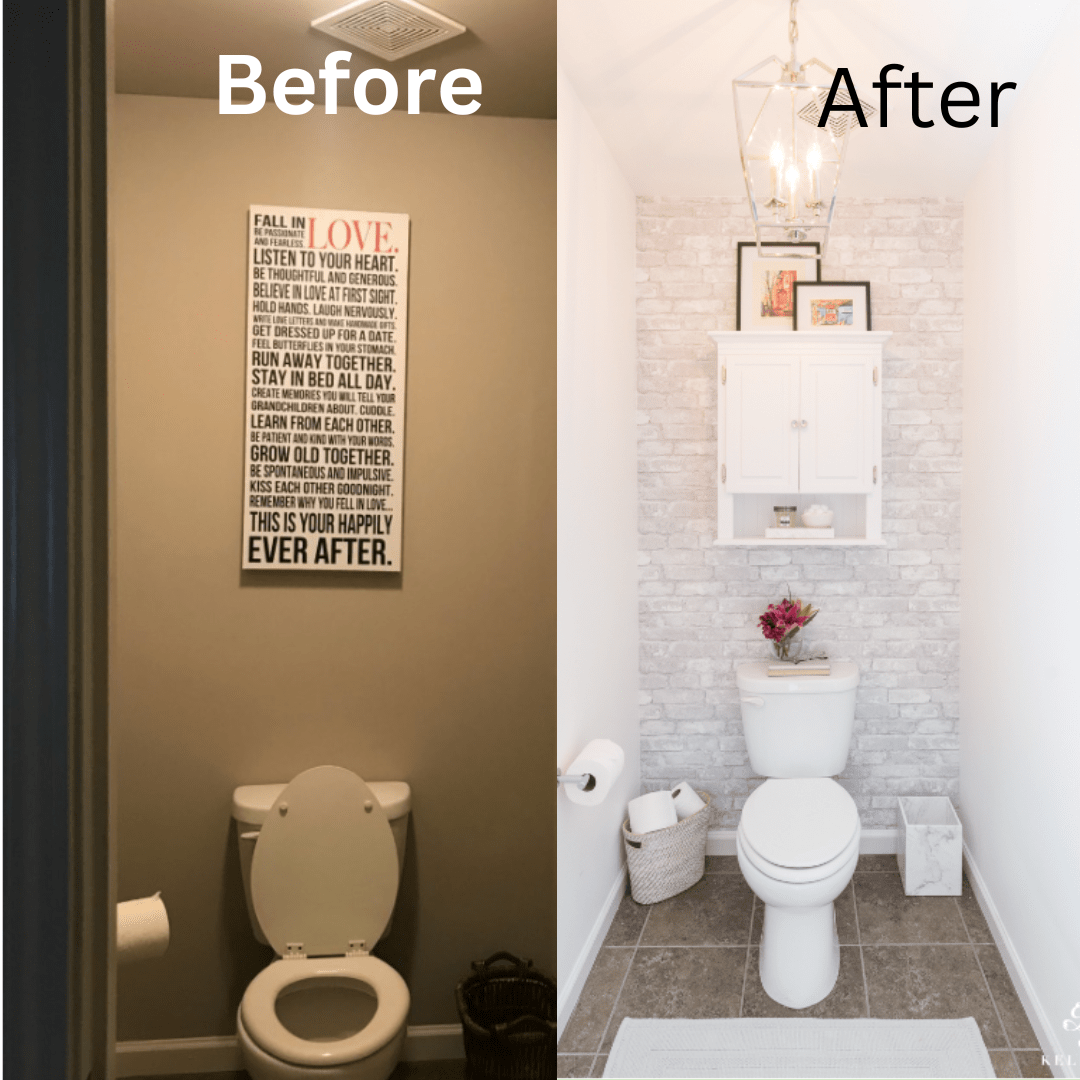 How to get sponsored blog post opportunities 
In this section, you will realize how to find sponsors and be paid to write on your blog. 
1. Pitch to brands who are already spending on ads: 
This is simple if you have display adverts by Google AdSense or other advertising networks on your blog, you will most often than not find ads relevant to your niche showing on your blog. 

These ads are placed by brands that already have the budget. 
In most cases, they are not getting the expected return on ad spend (ROAS). 
Pitch to them and make them an irresistible offer to bring them traffic over some time. 
Note: Promise what you can deliver. Demonstrate how you intend to do it and why they should work with you to save their advertising cost. 
Alternatively, insert your niche keywords on Google search and look out for relevant ads on the top search results.
Click to find out more about the advertisers, contact them and pitch to them. 
Media Kit has an article on "sponsored post" proposal writing plus useful templates to motivate you with writing a sponsorship proposal. 
How to find the contact details of an "Google Ads" advertiser
This can be done with one of the following ways; 
Visit their website's "contact us" or "about" page: 
You will most likely find their corporate contact details there. 
Alternatively, type in their website address with a combination of either of the following URLs below;
thewebsitename/Contact

thewebsitename/About

thewebsitename/contact-us

thewebsitename/about-us
Use Hunter.io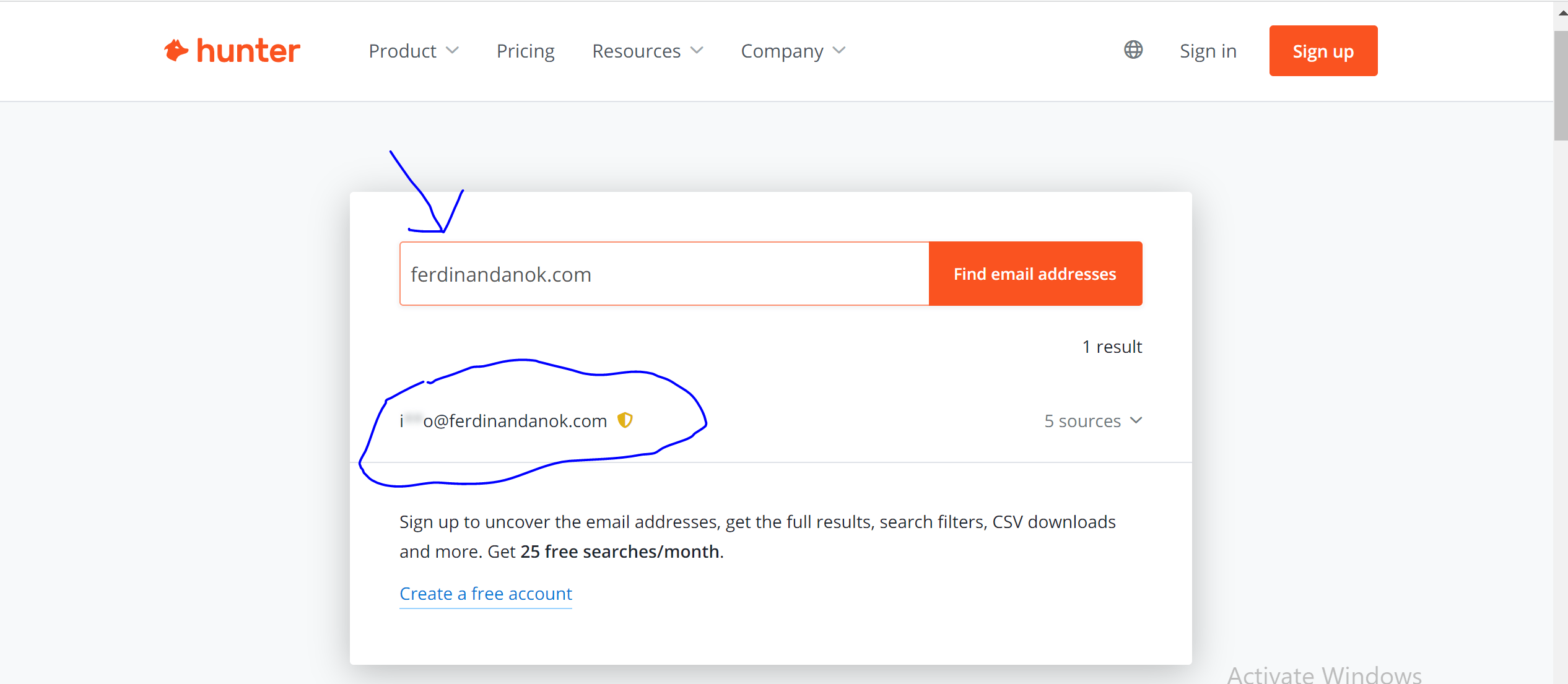 Hunter.io is a tool that reveals specific contact emails of individuals working for a company.
Hunter.io is easy to navigate and provides useful details about a company for you to reach out to and pitch for sponsorship. 
Use Whois Domain Lookup: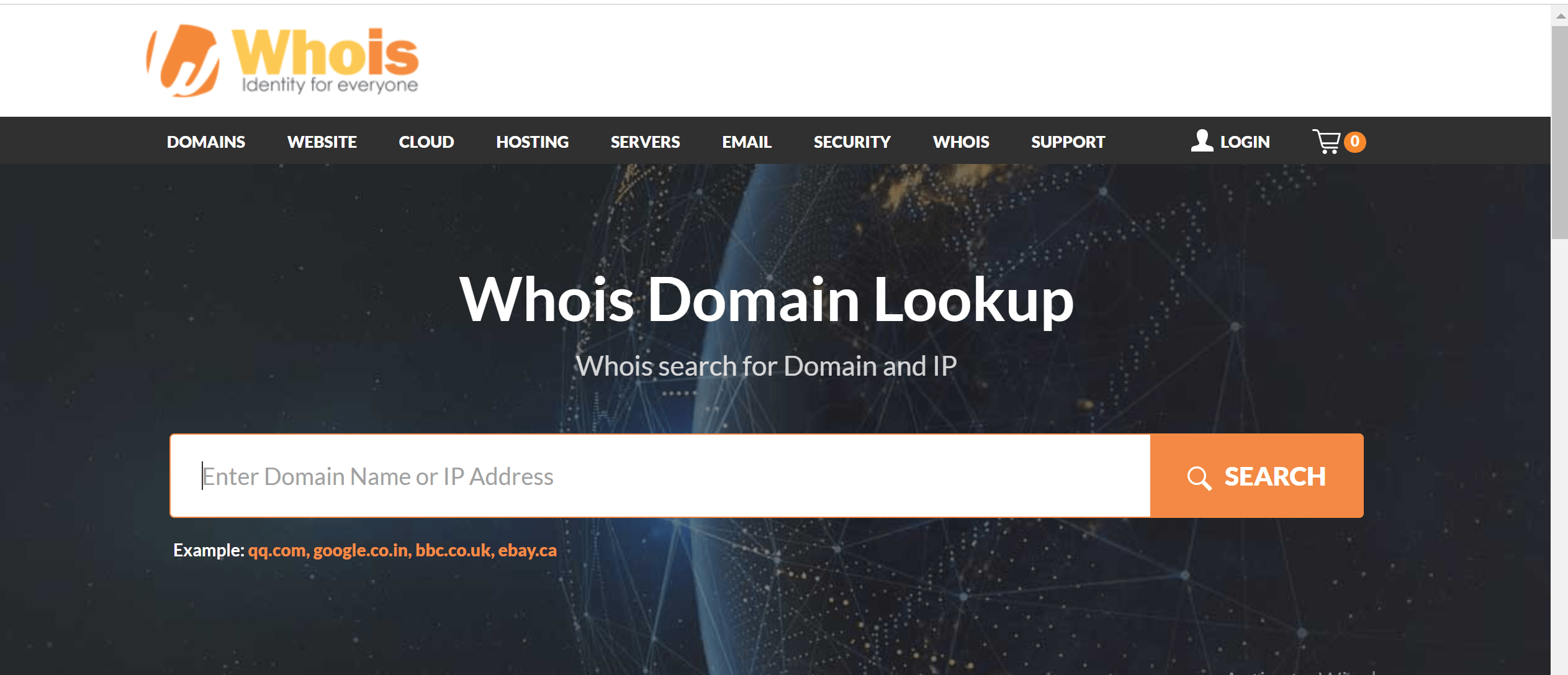 This website helps to uncover details about a website, like a website owner's name, address and age of the website. However, some web hosts provide whois privacy to website owners, meaning you may not find contact information on "Whois Domain Lookup". 
2. Allow Brands to Contact You
You don't have total control over who visits your website, and since your website isn't a physical office you should make it easy for your potential sponsors to easily reach you. 
Create a page for sponsorships or brand deals: 
Provide useful and compelling information in this section. The following details should be listed on your page; 
Your website or network of websites' monthly traffic and social media profiles' traffic combined. 

Your name 

Your contact details 

Your niche and audience demographics 

Your website's URL 

The benefits for your potential sponsors 

Brands you have worked with (if any)
Remember to regularly and neatly link to this page from other relevant articles on your blog. 
Include this page in the menu (or footer) area of your website's home page. 
3. Focus on Publishing Good Content to Drive Traffic and Attention
In my experience, this is the most useful part of getting sponsorships. Traffic is the lifeblood of every website. 
If your website has good and consistent traffic, the sky is your starting point because, in addition to other monetization options, sponsorship deals will come to you regularly. 
Here's how to achieve this; 
Optimize your website for Search Engines 

Write high-quality

SEO blog posts 

Continue to publish valuable content 

Promote your content on social media 

Track your keywords and focus on writing more content to serve the keywords you are ranking for. 
Related Article: How To Become  An SEO Content Writer 
4. Nurture Your Relationship with Existing Sponsors
Building healthy business relationships can have a multiplying effect on your income. If you have a reliable sponsor, be nice to them and build a strong business bond. 
Work hard to over-deliver. 
For instance, if you are paid to write a sponsored post only, provide extra social media exposure. 
Inform your sponsor about the extra effort you have made to increase sales. 
How to charge for sponsored content 
Charging for sponsored blog posts depends on 2 factors;
The value you will give 

The sponsor's budget and willingness to pay 
All things being equal, use the industry standard to charge. 
You should charge; 
Per 1,000 impression 

Per month 

Per day 

Per year or 

Per post 
Charge $4 Per 1,000 impression: If you understand the traffic metrics of your blog, (use Google Analytics)
This means 10,000 impression/page views equals $40 (I.e. $4 x 10).
With this, you can figure out how to charge per month, per day, per year or post. 
If you receive only 1,000 page views per day, you should charge $4/day, multiply this by 30 days/1 month = $120 per month, and $ 1,460 per year I.e. 365 days. 
This calculation is for new or growing blogs with 10,000 page views or less. 
If you have more traffic than this, adjust your rates to reflect your traffic. 
How to write a sponsored blog post 
Writing a sponsored blog post is the same as writing any other article, 
The key difference is the need to write to meet the specific needs  of the sponsor.
Generally, you most likely will follow the rules of writing an SEO-optimized article. 
Here's a chick list to write a sponsored post 
Choose the right topic: 
When it comes to writing sponsored posts, you are mixing a blend of content writing and advertising, but you should not write like it's an ad anyway. 
Choosing the right topic is key. 
Most sponsored articles are product reviews, "how-to" articles, posts about product benefits or case studies. 
Decide on which angle you want to focus on. 
In this example by Leslie, a blogger and founder of The Leslie Style, you will notice how she blended storytelling and product review in a sponsored blog post titled: Transitional Glam Family Room Furniture Reveal. 
Leslie told a story of her experience with The Brit (A home décor and appliances e-commerce store), and how their products have transformed her boring home into a beautiful home. 
It is worth mentioning that Leslie did not ask anyone to buy in her blog post, but she added beautiful product pictures from The Brit store and spoke highly of them, leaving the audience with no option but to click on the nicely placed outbound links added strategically within the article to find out more. 
You could do a complete "product  A vs B" review and highlight the benefits that your sponsors' competition does not give. 
Reviews are powerful because people who search for reviews on Google are close to making a buying decision.
 All they need is one more push. 
Start with a captivating headline:
A headline is what brings the click. 
Your headline should include curiosity-driven power words. 
In Leslie's article, she added the word "Reveal"
Other Power words are; 
Mind-blowing 

Exceptional 

Secret 

Complete 

Jaw-dropping 

Excellent 

Top 

Best 

How-to etc. 
These words move people to stop and click. 
Write an article outline beforehand 
Writing a sponsored blog post outline helps you know what to write about and the areas to touch on in your article.
It gives you direction and guidance. 
This is how your post outline should be; 
The Headline

Sponsorship disclosure – optional 

Brief introduction 

Areas to cover (body of the article) 

Key takeaways or conclusion or a final verdict (in the case of a review blog post) 
The Headline: this is a captivating text that people see on your blog and on search engines before clicking to read.
Sponsorship Disclosure: This is a brief statement that discloses your business relationship with the sponsor. 
This is an example of a sponsorship disclosure statement;
Disclosure: This article is sponsored by (insert sponsor's name + website link), as always, all of the opinions here are mine. 
Brief Introduction: Usually, this section is used to break the ice. Briefly agitate the problem or ask a question that they will say yes to, then promise to answer the question or provide the solution with your article. 
Example of a sponsored post introduction: 
Are you tired of spending hours to days trying to write a 1,000-word blog post? If this sounds like your struggle, worry no more. In this article, you will learn how to write a blog post in 16 minutes, even if you are a complete beginner. 
The body of the article
This is where the real juice is. You should have identified the areas to cover beforehand. 
Go ahead and discuss the steps you promised in your introduction.  You will provide answers to their questions here, using your sponsor's product (AI writing tool ) as part of the process. 
This way everything works naturally without sounding pushy or salesy. 
Cover the topic as much as you can and provide verifiable facts. Use screenshots and product images where necessary, and insert links to the sponsor's product page where appropriate. 
Key takeaways/Conclusion/Final Verdict:
This is your closing statement. Research shows that a higher percentage of readers look at this section more often than not, depending on which type of sponsored article you are writing.
Let's assume that it is a product review. The Final verdict becomes your closing statement. 
This is where you make your final and authoritative conclusion and recommend the product as the most preferred option. 
Note: Do not ask them to buy, say your final verdict and close the chapter. Let them decide. 
Don't worry, this is content marketing and the conversion rate is always high. 
Did you find value  in this article ? kindly encourage my work and Buy Me a Coffee
Also Read: How to Make Money with A Blog Fast