This article will teach you about the pet niche, the most profitable ways to make money with a pet (dog or cat) blog, and how to start a profitable pet blog.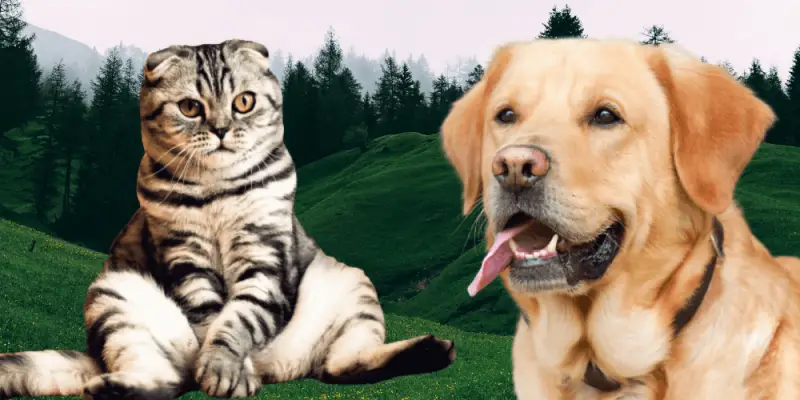 Pet Bloggers make money from the sale of pet products, brand deals and endorsements, display advertisements, affiliate marketing, sponsorships and the sale of digital products 
What is a Pet (Dog or Cat) blog? 
A Cat or Dog blog is a blog focused on publishing content related to dogs and cats. 
Generally, pet blogs refer to blogs with content about any animal considered by its owner to be a pet, these include parrots, birds, rabbits, horses, snakes, fowl etc.
A Pet's blog's content primarily contains articles but may include videos and graphics like pictures, gifs, infographics, and illustrations. 
The motivation to start a pet blog can be due to someone's love for pets or the need to increase visibility for a pet-related cause or business. 
Is the Pet Niche Profitable? 
Pet blogs are highly in demand because of the growing love for pets, this has translated to a huge hunger for pet-related education, information and products on the internet. This is why pet blogging has become a hot niche for bloggers. 
I surveyed the trend of pet-related searches on the internet using Google trends over 12 months (in 2022), and the shocking results reveal a staggering 86% average interest in the search term. 
How is this little research important to you as a pet blogger or an intending pet blogger? it is simple if people were looking for pet-related information or products throughout 2022. It means there is a huge audience in that niche because the trend has been consistent and may not change quickly. 
Do Pet Blogs Make Money? 
Pet blogging is a way to make a decent income online, this is due to the increasing need for pet products. 
Pet bloggers also earn from brand deals or writing sponsored posts to create more visibility for other pet product stores, in addition to the sale of courses and consulting services. 
The primary source of income for a pet blog is from display advertising (Google Adsense, Mediavine Ad network, Ezoic etc). 
It is worth mentioning that pet blogging does not bring riches overnight, some bloggers spend several months (even years) before earning their first dollar. 
Pet blogging requires patience, consistency and continuous learning. 
A lot of pet lovers blog for fun. They prefer to share pictures, stories and videos of their beloved pet, and not necessarily to make money. 
How much do pet bloggers make?
Many income reports from pet bloggers reveal the fantastic revenue they have earned. 
Look at some income reports below; 
Niche blog Biz is owned by Jessica, a two-time BlogPaws awards winner who loves to share stories about her pets (Miniature Dachshunds). 
Her simple blog evolved into a full-time income-generating business. An income report shared on her blog revealed an average monthly $7,619.50 income earned from the sale of mentorship/coaching, affiliate commissions and display advertising. 
Blog Name: Niche Blog Biz 
Monthly Traffic: Not defined 
Website: Nicheblogbiz.com
Monthly Income: $ 7,619.50 (2019 monthly average) 
Revenue sources: Media Vine Ad network, Amazon affiliate program, sponsorships and self-hosted mentorship program. 
Bloggers-On-The-Rise is a blog where the collective earnings from different blogs are published by its owner. 
They have a network of blogs that also publish pet-related content.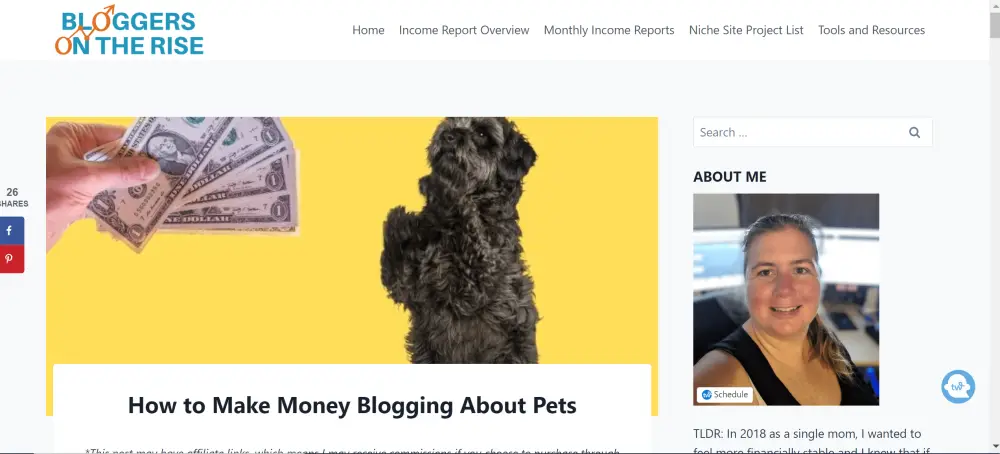 In July 2022, their income report showed a gross monthly $12,573.29 income earned from display advertising and affiliate marketing. 
Blog Name: Bloggers On The Rise 
Monthly Traffic:  Not defined
Website: Bloggersintherise.com
Monthly Income: $ 12,573.29 (2022 monthly average) 
Revenue sources: Ezoic Ad network, affiliate marketing.
How to make money with a Pet (Dog or Cat) blog 
I have carefully hand-picked 8 trusted, tried and proven ways to make money with your pet blog; 
1. Sell Physical Products: 
There is an increasingly huge market for pet products, worldwide, and pet owners spend millions of dollars on pet products. 
 An estimated $123.6 billion was spent in 2021 on Pet supplies according to the American Pets Products Association (source)
This is an 83.8% increase from the 2020s $103.6 billion expenditures in the US Pet industry. 
As a dog or cat owner (including other pets), consider starting an e-commerce store for pet products like food and treats, cages, clothing etc. 
The business is statistically proven to be lucrative. 
Your store can be self-hosted on WordPress (as part of the blog) 
Alternatively, list your products on Amazon, Etsy or local African marketplaces like Jiji, Jumia and Konga (if you live in Africa). 
Use your blog to drive traffic to your product pages. 
2. Provide Vet Care: 
Similar to physical products, Veterinary care is crucial and in demand. You can create an online clinic or partner with a vet expert (if you aren't one) to provide services to your audience. 
Vetshop.com and Vetshop.co.uk are examples of pet shops for pet med care and nutrition.
3. Use Display Advertisements: 
When display ads are mentioned, Google Adsense comes to mind. 
Truly, Google Adsense is a readily available monetization option for all bloggers. However, there are many (more profitable alternatives) like Mediavine and Ezoic. 
For over 7 years, I struggled to monetise content with Google Adsense, I did not realize that there are alternatives with better revenue until I signed up for a course that was an eye-opener. 
I eventually signed up for the "Ezoic Access Now" program, and I had a better experience than I did with Google Adsense. 
Ezoic Access Now is designed for bloggers with low traffic (below 10,000 page views). Opt for it if you fall into this category. 
Meanwhile, Mediavine is a great option for blogs with much more traffic and yields better revenue for bloggers than Google Adsense. 
An income report from Bloggersontherise.com (a pet blog) reveals a dramatic 35% increase in Ad revenue after a switch from Google Adsense to Mediavine within 1-month. 
On the 1st of August 2021, the blog received only $44.92 from Google Adsense (with 16,914 page views), the blog was immediately switched to Mediavine and it earned $113.79 with 13,016 page views by the month's end (August 31, 2021). 
This clearly shows that Mediavine performs better than Google Adsense. 
However, Mediavine isn't a beginner-friendly option as it requires 50,000 website sessions to qualify. 
4. Sell Digital Products: 
These include ebooks, checklists, tutorials/courses on pet care, pet education, pet business or anything valuable to your niche audience. 
These digital products can be listed in the store area of your blog or elsewhere like Amazon, Etsy, Jumia or Konga. 
To create a shop within your website, you need an e-commerce plugin called woocommerce. It takes a few hours to 1 day or more (depending on the time dedicated) to create a beautiful-looking e-commerce store. 
If you have little or no knowledge of web design with WordPress, get help from Youtube or Hire Us to create a highly converting e-commerce store for you. 
5. Influencer Marketing
As the name implies, you can become an influencer for various dog, cat (or other pets) brands and earn from it. 
What do influencers do? 
They use their influence in a particular niche to help people to make a buying decision as quickly as possible. 
When people follow influencers on social media or blogs, they do so because they either love, trust, get entertained or get educated by their content. 
When these influencers recommend a product, the audience tends to take action faster. 
So you see? you can become an influencer through your dog or cat blog. 
It is advisable to also build a social media presence to complement your blog. 
6. Sponsored posts:
This is a monetisation option where other pet bloggers contact you to publish an article or series of articles on your blog for them. 
They do so because of the SEO benefits they get. 
Have you heard of the term "backlinks"? 
A backlink is a link that bloggers include inside their text referring people to other useful places on the Internet, especially web pages related to the article. 
A website with many backlinks (from high domain authority websites) looks reputable in the eyes of search engines, and this is a ranking factor. 
7. Crowdfunding
: 
As a blogger, there is an option to collect donations or at least allow your audience to willingly give you money. 
This is simply done by including the "Donate" button on your blog's menu or within articles. 
Payments can be received via PayPal or through "Buy Me A Coffee". 
To move people to act, you should provide value in a way that makes them feel indebted to you.
8. Affiliate Marketing: 
This is a profitable blog monetization option widely used by bloggers. 
There are so many pet affiliate programs available for you to join and earn money from promoting dog or cats  products;
Vetshop.com

This Dog's Life and 
How to start a Dog or Cat Blog
To start a successful dog or cat blog, you need to do some basic things. 
1. Find a sub-niche: 
This is by far the best decision any cat or dog blogger must make. 
Do not start a general cat blog 
Do not start a general dog blog 
Do not start a general pet blog
Starting a general blog means a lot "negatively" to your blogging journey. 
You will struggle to build authority, trust and expertise (E.A.T) which is a key ranking factor for Google. 
Niching down allows you to serve a very hungry, starving or needy audience. 
If you read further, you will see a list of niche ideas to motivate you. 
2. Build your blog: 
You've got to invest in building a website anyways. 
Buy a domain name and hosting from Namecheap or Bluehost and design your WordPress blog. 
If you need help with designing an affordable WordPress blog that will become profitable within a short time frame, I can help for a negotiable fee. 
3. Publish content consistently
Content is the powerhouse of every blog. A blog without valuable content is crap. 
Plan to write valuable and SEO-compliant content and publish it on your blog. 
Don't stop, keep publishing and wait until the traffic and income begin to show up. 
If you would like to speed up the progress of your Dog or Cat blog, Download and read Blogging Income Secrets, an eBook I authored. This will be your best decision ever. 
4. Monetize your blog: 
You can't make money from the air, you have to find a way. In my experience, display advertisement is a beginner-friendly way to start getting a few dollars with your blog. 
Consider starting with Google Adsense or Ezoic Access Now Program, and move to Mediavine after hitting 50,000 sessions per month. 
The second beginner-friendly way is affiliate marketing. 
Sign up for a dog or cat affiliate program and promote the links in your blog. 
5. Treat blogging as a business
Whether blogging is your side hustle or a full-time hustle, it should be treated as a business regardless.
6. Pay attention to the metrics 
Look at the performance using Google Analytics. 
Make sure your blog has a good standing on Google 
Make sure your pages are indexed 
Make sure your blog and its content can be viewed on mobile devices. 
Use a free (or the premium version)  of RankMath SEO tool to optimize your website for search engines. 
As you begin to record incremental traffic on your blog, build an email list by capturing leads with email marketing tools like Convertkit, ActiveCampaign or SendingBlue. 
Promote relevant offers to your email list and earn more income from your audience. 
17 Cat blog name and sub-niche  ideas 
| | |
| --- | --- |
| Name Ideas | Sub-niche |
| Cats that Matter | Vet Care |
| Love for Cats  | Cats Clothing  |
| Cute Kittens   | Cats' nutrition  |
| The Cats blog  | Cat Grooming  |
| Why Cats Matter  | Caring for disabled cats  |
| Cats Affairs  | General cat safety  |
| MeoNews | Latest news about cats  |
| For the love of Cats  | Cat toys  |
| Cats Life  | Cats Travel and Lifestyle blog  |
| Kittenly  | Cats breeds education  |
| Jungle Cat  | Teaching cats how to hunt |
| CuteeCat  | Cat houses  |
| KittyBoo | Cat bonding & communication  |
| Cats Land  | How to do cats' business  |
| What's the Cat | Cat Products reviews  |
| Twinkle Cutee Cat  | Best cat breeds for females  |
| Cat Blogger  | Cats' health tips and tricks |
14 Dog blog name and sub-niche ideas 
| | |
| --- | --- |
| Name Ideas | Sub-niche |
| Doggy Dog Hub  | Dog breeding & crossbreeding  |
| Oh My Dog | Dogs Medical Care  |
| A Dog's Life Matter | Health Education  |
| Friendly Pet Man  | Grooming kids-friendly dogs |
| My Dog & I | Dog Whispering  |
| Dogs on Fire | Raising safety & security dogs  |
| Twinkle Little Boo  | Best Dog breeds for girls & women  |
| Where's The Dog  | Dog grooming for a specific breed |
| The Big Doo | Dogs' food and treats  |
| Be Cute like a Dog  | Dogs' clothing and accessories  |
| The Perfect Dog | Dog breed review  |
| PawHawk | Dog Whispering  |
| Be My Dog | Dog bonding techniques  |
| Save a Dog | General Dog Safety  |
Key Takeaways 
Pet (cat or dog) bloggers make money through influencer marketing, veterinary care, affiliate marketing, sponsored posts, the sale of digital/physical products and through donations (crowdfunding). 
An SEO-optimized blog filled with quality SEO content plus good monetisation is the key to having a successful Dog or Cat. 
RECOMMENDED ARTICLES: